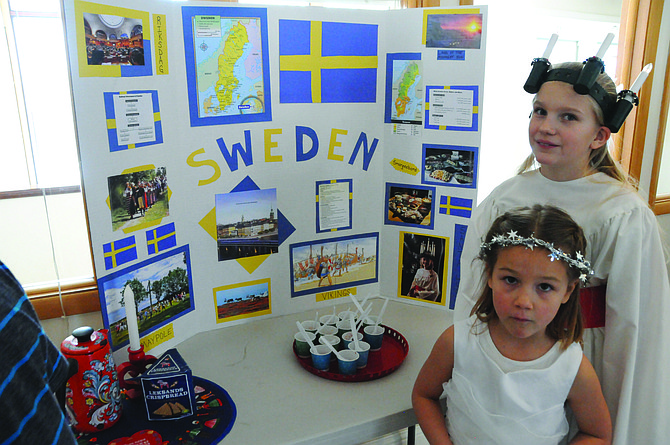 Photo by Lorie Palmer
Mari Schwartz, dressed as St. Lucia, is seen here with her little sister in front of the Sweden display she and her twin brother, Jesse, made.
GRANGEVILLE — It was a World's Fair extravaganza right here in Grangeville, Jan. 26.
More than 20 local homeschooled kids and their families presented the fair at the E-Free Church, offering historical tidbits on various countries as well as tastes of food associated with the traditions and cultures of their chosen country's people.
"Do you know 32,187,492 pounds of rice is consumed each year?" asked 9-year-old Boyd Ashcraft, whose chosen country was China.
His sister, 7-year-old Helen, said, "Seventy percent of people in the Bahamas are protestant and most days are sunny, never colder than 70 degrees."
Students set up tables with posters, information, food and souvenirs from their countries and each was able to tell facts and answer questions to the large crowd that was drawn into the church for the fair.
Kate Foster, 10, chose Zanzibar for its "amazing diversity."
"It's off the east coast of Africa, and is considered Africa's Spice Island," she said, showing samples of lemon grass and saffron.
Teen Hilde McGuigan and her mother made a sweet pastry called gafa bread.
"This sweet bread is very popular in Armenia," Hilde said. "Someday I definitely want to travel."
"Sweden is the Land of the Midnight Sun," explained 11-year-old Jesse Schwartz. He and his twin sister, Mari, collaborated on the project, choosing Sweden because "we have a lot of family from there," he said.
Mari dressed as martyred St. Lucia, whom, she said, "died for her faith."
Jesse also explained the word "smorgasbord" is Swedish, and, "boy, did they know how to have a smorgasbord," he said. "They would have all sorts of herring dishes, fruits, cold meats, cheeses and more."
All those who participated include the following: Boyd Ashcraft: China; Helen Ashcraft: The Bahamas; Kate Foster: Zanzibar; The Stowell family: Japan and the Pacific Islands; Maggie Foster: Mexico; The McCarty family: The Netherlands; The Mallory family: France; Dane Kinsley: Laos; Aiden Acton: Vietnam; Bjorn and Aela McGuigan: Vietnam; Molly and Saoirse McGuigan: Fiji; Pat McGuigan: Finland; Hilde McGuigan: Armenia; Clarissa Stevens: The Philippines; Emmy Williams: Malaysia; Baeli Kinsley: Thailand; Naomi Connolley: Indonesia; and The Schwartz family: Sweden.
A portion of the students (Dane and Baeli, Naomi, Emmy, Clarissa, and Aiden) are in the homeschool class of teacher Kathleen Walker and were graded on these projects, and gave oral presentations to their class and parents.