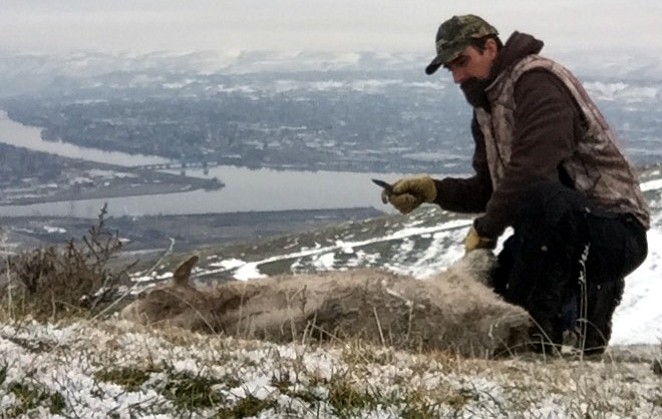 "I enjoy working with people and helping reduce any losses and conflicts they may be having," said Cody Wilson, wildlife specialist, U.S.D.A. Wildlife Services.
Old school, this position was called government trapper, nowadays, wildlife specialist.
Since 1886, government trappers have provided assistance to people struggling with wildlife damage issues. Their efforts traditionally involved the protection of crops and livestock from beavers, birds and predators, such as coyotes, wolves, bears, bobcats and mountain lions.
Government trappers, as experts in their field, knew the lay of the land and the intricate lives of the wildlife that lived there. Many of these hardy men grew up hunting and trapping with their families and respected the connections among people, wildlife, and the environment. They also built strong ties to the ranchers and farmers who depended on them to protect their livelihoods.
Cody Wilson is the true definition of a government trapper, having been born and raised on his family's ranch along Rapid River just south of Riggins.
"I have received a good appreciation and experience my whole life on the ranch with the damage that predators can cause," said Wilson.
Wilson took on his role in 2013, after previous wildlife specialist and friend, Justin Mann, began his battle with leukemia. "Justin called me to let me know that a temporary position would be open while he recovered and he thought I would be a good fit," Wilson said.
Unfortunately, Mann lost his battle in October, 2014, and Wilson became the wildlife specialist for a large part of central Idaho.

Wilson said, "I cover a large area of the state, including Idaho, Lewis, Nez Perce, and a portion of Clearwater and Adams counties."
In 1985, Congress transferred the Animal Damage Control (ADC) program from the U.S. Department of the Interior's U.S. Fish and Wildlife Service to the U.S. Department of Agriculture's Animal and Plant Health Inspection Service (APHIS), where it was later renamed Wildlife Services.
This transfer enlarged the agency, while adding a new facet of agricultural protection to the APHIS mission: to protect the health and value of American agriculture and natural resources.
According to the Idaho Department of Agriculture, in 2015, Idaho was home to approximately 2,300,000 cattle and calves, 579,000 dairy cows, and 260,000 sheep and lambs, equating into a lot of numbers requiring protection from wildlife predation by a handful of government trappers.
Wildlife, being a publicly-owned resource, creates a need for professional and environmentally sensitive actions involving the federal government to stop or prevent damage these animals may cause to private property and human health and safety.
The mission of USDA APHIS Wildlife Services (WS) is to provide federal leadership and expertise to resolve wildlife conflicts to allow people and wildlife to coexist.
"I depend upon the efforts to educate ranchers and the public on methods to prevent these conflicts so that I can focus my remaining time working on those conflicts that cannot be solved quite so easily," said Wilson.
"Most of the conflicts I work on involve coyotes, wolves, black bear, marmots, skunks, starlings, and ravens. If grizzly bear move into my area, I suppose I may be asked to solve damage caused by them, too," Wilson continued.
If these grizzly bears do start causing damage in his area and for populations listed as threatened or endangered, control actions will be directed by the U. S. Fish and Wildlife Service, which manages listed species under the Endangered Species Act.
The philosophy of wildlife damage management has evolved over the years along with societal values and perspectives.
Wilson said, "We work in a professional manner to resolve conflicts between people and animals. I help to educate people on strategies they can use themselves to resolve the conflict, many of which are nonlethal ways to resolve the conflict."
"When I receive a call, I first do an investigation to determine what species caused the damage. That way, I target the right animals responsible and not those that didn't cause the damage," Wilson continues, "Then I use the tools in such a way that I can solve the conflict without harming other animals. For example, a foot-hold trap can catch virtually any animal. So, when I use a trap, I use the correct type, with the right lures that will attract the right animals and set the trap in such a way that will prevent other animals from being caught."
"It's more of an art than a science," said Wilson. "But, if I manage to catch the wrong animal such as a bear, I have tranquilizers to help when necessary to release the animal unharmed, both him and myself."
"As far as what I like least about the job," Wilson said, "You know, I can't think of anything."
Wilson can be reached by contacting his supervisor, Kirk Gustad, at 866-487-3297 or kirk.e.gustad@aphis.usda.gov .
Shelley Neal is a resident of Lucile; garrett.neal@verizon.net