More and more farmers are using auctions to buy and sell their equipment.
"The cost of used farm equipment is on the rise," says Kyle Musick, owner of GoBidToday.com. "With the costs of new equipment, smaller farmers can't justify buying their tractor from the local dealer."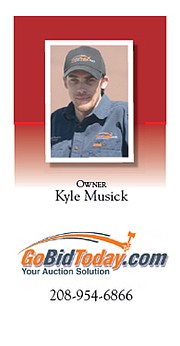 So where do they go?
"Typically, they will do a Google search for used tractors or watch their local auctions to see if anything will be coming up for sale," Musick said.
In recent years, small farms are disappearing. Many times, kids of farmers are choosing to leave the family farms for the city. In these cases, where there are no heirs to take over the family farm, an auction is one way to liquidate the farm's assets and move on.
And it's not just equipment going to auction.
According to the United States Department of Agriculture, about a tenth of all the farm-land in the country – about 91.5 million acres – is slated for ownership transfer. That doesn't include farmland that is in or is expected to be put into wills. The USDA survey found land-lords expecting to keep 48 percent of that acreage in trusts, but that suggests as much as 47 million acres of land nationwide will be sold. The vast majority will be held in trusts or sold or given to the farmers' relatives, but land will be available for new farmers to buy.
"Farm auctions are rising because estates can be hard to settle without a plan," Musick said. "Small farm auctions are becoming a common way to liquidate estates where there are no heirs who want to farm."