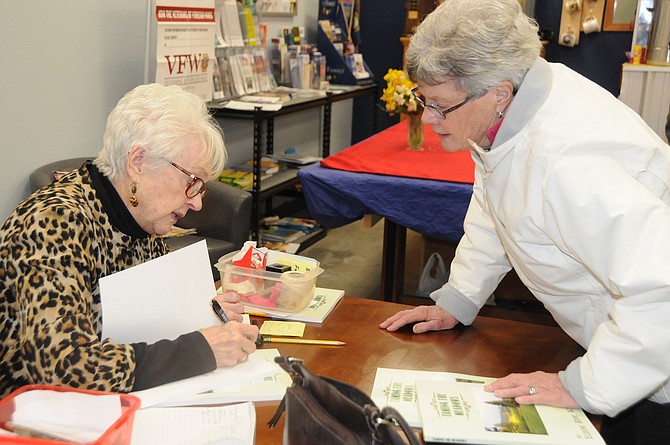 Photo by Lorie Palmer
Eldene Wasem of Grangeville signs a copy of her book, "Taming the Meadows," Thursday Feb. 9, at the veterans center, for MaryAnn Solberg (right). Wasem has sold out of two printings; she will take orders for a third to see if there is enough interest. To be placed on a list call her at 983-0195.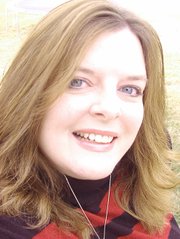 Local junior and senior high school students who are interested in pursuing a career in diesel mechanics, auto tech & repair, ag tech, welding, fab and machining and auto body repair are invited to an open house at Partsway tonight, Feb. 22, 5:30-7 p.m.
•
Idaho County Veterans Outreach and Community Center is hosting Chamber After Hours and open house on Thursday, Feb. 23, from 5:30 until 7 p.m.
Stop by the center to see the transformation and enjoy finger foods and beverages. The vets center is located at 318 East Main on the ground floor. All area business men and women are invited to attend.
•
Did you notice the Get Acquainted spotlight ad on the front of the Shopper or on 4B of the Free Press this week? We will be promoting GA all year long, so if you were an advertiser – keep an eye out for your business! Get the 2017 copy in this week's Shopper or stop by the Free Press office for one.
•
Lewis-Clark State College Grangeville Outreach has a variety of enrichment classes coming up.
Finding the Lost in Idaho County will be presented by Idaho County Sheriff's Office Lt. Jerry Johnson Tuesday, March 14, 6 to 7:30 p.m., at the Idaho County Courthouse. Cost is $15.
Google Organization for Business is set for Friday, March 17, 9:30 a.m. to noon, at the Grangeville Outreach Center with Barbara Leachman instructing. Cost is $40.
To register call coordinator Carla Nuxoll Wilkins at 983-2164 or e-mail cnwilkins@lcsc.edu.
•
A local Free Press reader let us know he has received a solicitation call from someone claiming to be collecting for the USO. Know this is a scam; do not give through this over-the-phone call.
•
Mark your calendars: Grangeville High School Senior Project presentations will be open to the public Wednesday, March 8, 6 - 8 p.m. Presentations will take place in the GHS cafeteria. All are invited.
•
The 5th Annual Volunteer Fireman's Ball and Auction held Feb. 11 at Hoot's Cafe in White Bird raised nearly $6,000 from more than 130 donated auction items and other contributions, which will be divided between the four regional volunteer fire departments: City of White Bird, the City of Riggins, the Salmon River Rural, and the Grangeville City VFD.
The event was sponsored by White Bird Chamber of Commerce.
•
On Onlyinyourstate.com, Harpster is listed as number four on the "Blink and You'll Miss These 10 Teeny Tiny Towns in Idaho." This is a list of some of the "best and yet most remote" tiny town locations — less than 300 in population — in the state.