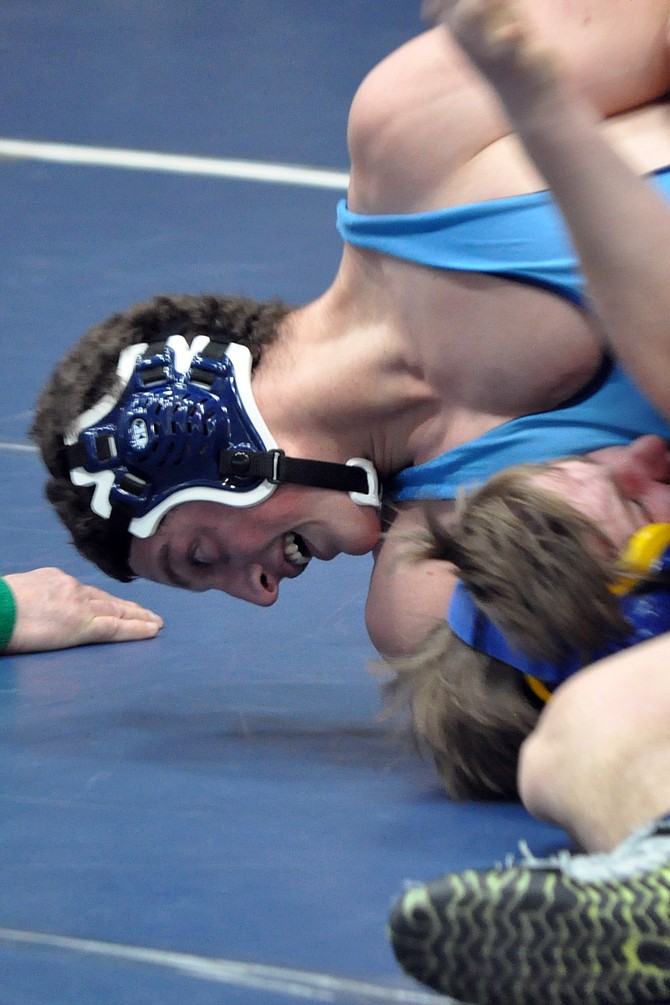 Photo by David Rauzi
Grangeville's Noah Kaschmitter and 15 other local wrestlers qualified for state competition last week.
GRANGEVILLE — Three Bulldogs, nine Rams, a Pirate and a trio of Kubs are all headed to the state wrestling this weekend in Nampa.
Prairie's Jace Perrin (182) and Kamiah's Mike MacMeniman (113) won their weight classes, with MacMeniman advancing uncontested.
Perrin topped Kamiah's Peyton Whipple in the final round at 182 last Saturday, Feb. 18. Whipple is on to state, as is Rams 182-pounder Kyle Hueth.
Grangeville's Frankie Zumwalt (145) won all his matches handily, according to GHS coach Tyler Bransford, and will be joined on the trip south by Tristen Bledsoe (third, 152) and Noah Kaschmitter (second, 195).
"Tristen had a really good day," Bransford said. "He won some very tough matches and he maintained control position — this time he showed confident control."
Kaschmitter had beaten Orofino's George Bolling before, and Bolling had previously beaten Kaschmitter as well. When they met in the semifinal, Kaschmitter prevailed. Potlatch's Layton Paul beat Kaschmitter for the district title, and Paul will be the top seed in the weight class this week.
Clearwater Valley's Trae Dominguez (220) pinned Brandon Stump of Orofino in the district title match and will be joined in the state 220 bracket by Rams teammate Kade Ketola.
Among the heavyweights, CV's Keiran Owens — the defending 285 state champion — pencils in as the third seed as the district champion.
CV's Carson Morrow (160) won his weight class with an 8-6 decision against Kenon Brown of Potlatch in the district title match.
Also qualifying are CV's Wilder Cross (106), Kamiah's Alfredo Gonzalez (120), CV's Christian Fabbi (126), CV's Ty Dominguez (160), CV's Taylor Roy (170) and CV's Lane Schilling (170).
Coming — The tournament begins with wrestling on 12 mats set to start at 9 a.m. this Friday, Feb. 24, with the first two rounds of 2A and 3A wrestling expected to continue through about 2 p.m. MT.
Action continues with the first two rounds of 4A and 5A matches squaring off Friday afternoon and evening.
Action is set to resume on eight mats the next morning with the semifinals at 9 a.m. MT, followed by consolation rounds, followed by the third-fourth and fifth-sixth place matches. The Parade of Athletes has been penciled in for 3:30 p.m. MT with the championship matches to follow on four mats.