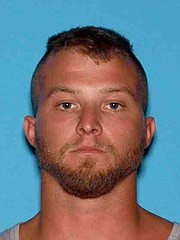 Physical description of Joshua Blair Manley
• Age: 27
• 5'11"
• 170 pounds
• Hazel eyes
• Brown hair
RIGGINS — Law enforcement is seeking a Boise man following recovery last week of thousands of dollars in stolen items recovered during a warrant search at a Riggins property.
An arrest warrant has been issued for Joshua Blair Manley, 27. The warrant has a $30,000 bond and nationwide extradition. Those with information on Manley's whereabouts are asked to contact the Idaho County Sheriff's Office (ICSO) at 983-1100, or their local law enforcement agency.
Last Tuesday, Jan. 3, ICSO and Garden City Police (GCP) executed a search warrant on Berger Street in Riggins to recover rafting gear reported stolen between Dec. 9-12 from a warehouse, owned by Maravia Corporation, in Garden City.
Estimated value of the items taken during the burglary was approximately $40,000, according to ICSO Detective Jerry Johnson. Following last week's search, roughly $15,000 in merchandise – including rafts, paddles and duffle bags – was recovered from a storage building located on Manley's stepfather's and mother's property.
Investigators have also recovered a high-end 125-quart Yeti cooler from an individual who said he bought it from Manley, who also reportedly told him he had other items for sale including oars and wetsuits.
On the day of the search, investigators contacted Manley's stepfather asking if he had seen these stolen items, according to Johnson, and he told them they were in a private storage building on the property. Acting on that information, Johnson said, ICSO and GCP detectives sought a search warrant.
Manley faces a felony possession of stolen property charge in Idaho County, and possible pending burglary charges out of Garden City for the warehouse break-in.
According to Johnson, Garden City police stopped a suspicious vehicle circling the Maravia warehouse at night with its lights off a week following the burglary, the driver of which turned out to be Manley. He was reportedly in possession of burglary tools and also a dry bag that matched the appearance and model of one stolen in the incident. Footprints around the warehouse were found, but they were unable to be matched with Manley. However, officers had no probable cause to arrest and let Manley go.
At this point it is unknown whether other individuals were involved in the incident. Manley is suspected to be in the southern Idaho area, possibly Boise where he last rented an apartment.
Along with information on Manley, investigators are seeking others who may have been sold items by Manley that may have been stolen in this incident.