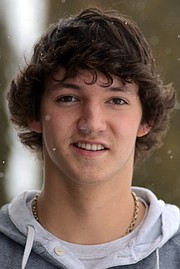 Grangeville senior Patrick Schumacher scored 15 points, mostly on post-ups, during the Bulldogs' first league basketball game of the season.
St. Maries got the better of the GHS boys last Saturday, Jan. 7, but Grangeville, having stumbled at Colton earlier in the week, made strides in the right direction.
"That was actually a really good game against St. Maries, even though we lost," Schumacher said. "Coach [Kelcey Edwards] was happy with how we played. We were hustling more. Against Colton we were really sluggish."
Citing the holiday layoff, Schumacher said Edwards "ran us pretty hard in practice and got us back into shape."
"We were definitely trying to push our pace and not settle into playing their pace," Schumacher said. "We were really pushing the ball down the floor and I think that's what he was most pleased with."
The Grangeville boys ran their offense better at St. Maries than they had at Colton, Schumacher said.
"Everything we did wrong at Colton, we kind of corrected at St. Maries," he said.
Still, GHS came up 11 points short — and Schumacher pointed out that the difference in the final score was the same as St. Maries' halftime lead.
"I think we've just got to come out stronger than we did," he said. "If we can play the whole game like we did in the second half, I think it would be a different result."
Schumacher pointed out Booker Bush's intensity gave Grangeville a much-needed spark.
The rematch is scheduled for 3 p.m. Jan. 21 at GHS.
This Bulldog of the Week athlete highlight is brought to you by: Seasons Restaurant.