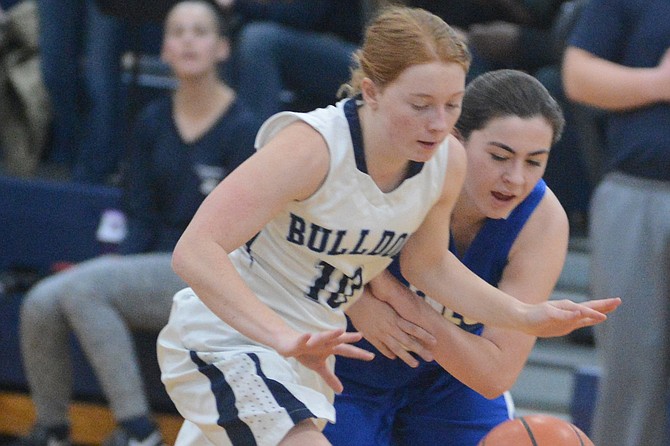 Photo by Andrew Ottoson
Grangeville sophomore guard Chloe Dame got the best of her Genesee counterparts last Friday night, Jan. 6, as Grangeville took a 2-0 lead on her layup and never trailed on the way to a 53-16 home win.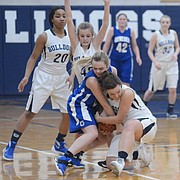 GRANGEVILLE — The game last Friday night, Jan. 6, figured to be a close contest, but Genesee's overmatched guards struggled against Grangeville's defensive pressure.
It ended up as Grangeville's most one-sided win so far this season, with an 11-0 run during the third quarter extending what had been a 19-3 Grangeville lead to 25 points at 36-11.
GHS freshman JaKaili Norman booked an 11 points, 11 rebounds double-double and senior McKenzie Kennedy added 10 points as the only other Bulldog to score double-digits.
After Grangeville sophomore Chloe Dame opened the scoring, a pass from post Rachel Kelley found Kennedy open for a three-pointer from the corner, and Genesee's defensive rotations rarely came in time to prevent Grangeville players from shooting any shot they liked.
Much of the difference on the scoreboard came from Grangeville's transition defense, which produced a slew of fast-break points.
St. Maries 69, G'ville 55
ST. MARIES — A day after they thrashed Genesee, the Grangeville girls took an early lead, 18-14, but ultimately slipped to 1-1 in Central Idaho League play after the Lumberjacks surged into the lead during the second quarter.
Sophomore Paige Lindsley scored 22 and senior McKenzie Kennedy tallied 14 for Grangeville, but the Auer girls — Kelsey and Kaylee — carried St. Maries to the top of the league standings.
GHS has a chance to get even with the rematch coming up Jan. 21 in Grangeville.
Next, Grangeville (5-5, 1-1 CIL) is set to visit Colton Jan. 17.
Second quarter dooms GHS boys comeback
ST. MARIES — The Grangeville boys trimmed an early deficit down to four points but went to halftime down by 11, 31-20, last Saturday, Jan. 7.
Luke Stokes scored 14 points, Trey Dreadfulwater scored 13 and Patrick Schumacher notched a team-high 15 as the Grangeville boys played a stronger tempo than they had during a 73-50 loss at Colton earlier in the week.
Next, Grangeville (3-3, 0-1 Central Idaho League) have road games Jan. 12 at Kendrick and Jan. 14 at Genesee.
GHS will then host Lapwai next Tuesday, Jan. 17.