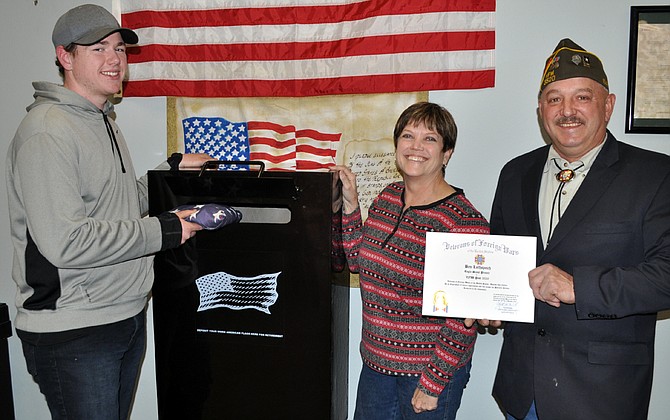 Photo by David Rauzi
A new collection receptacle for damaged, worn and faded U.S. flags is available to the public at the Veterans Outreach and Community Center in Grangeville. The box was created as part of an Eagle Scout project by Ben Lothspeich (left), pictured here with veterans' center coordinator Jinny Cash, and Chad Miller, commander of Grangeville VFW Post 3520.
GRANGEVILLE — Have a damaged U.S. flag that needs to be disposed of? Toss it in the can!
"This is for used and worn flags," explained Ben Lothspeich, 18, about the collection receptacle at the Veterans Outreach and Community Center in Grangeville, created as part of his Boy Scout Eagle project. When someone has a faded, torn or damaged flag they cannot dispose of properly, "they can turn it in here, and the local scout troop will be called and do a retirement ceremony."
Damaged flags cannot be disposed in the trash but rather destroyed through a process where the flag is cut apart and then burned in a reverent ceremony. Flags collected in this box will be provided to Troop 555 that will periodically dispose of them in a formal manner, an activity that will also go toward their scouting achievements.
Lothspeich said the flag receptacle project took approximately 45 hours. Material was donated by Advanced Welding and Steel; fabrication was assisted by Roy and Jarom Farmer, and Daryl Kingma; and painting by Brad Lockart and Warren Snyder. VFW Post 3520 was Lothspeich's Eagle Scout project sponsor. Mark Gravatt is Eagle Scout coach, and Ty Reuter is Troop 555 scoutmaster.
A freshman attending the University of Idaho, Ben is the son of Joe and Shelli Lothspeich of Grangeville.
The flag disposal receptacle is available at the veterans' center to the public to drop off their flags. For information call 451-0085 or visit them on Facebook at www.facebook.com/IDCOVetsCenter.