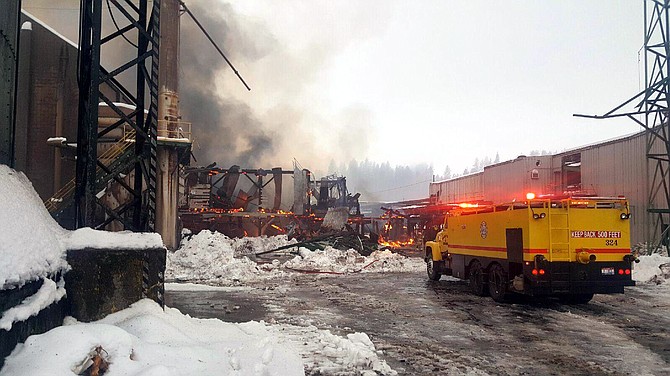 KAMIAH — Kamiah Fire Department wrapped up its investigation of last Thursday's fire at the former Blue North Mill site concluding hot work from a cutting torch touched off a blaze that destroyed the old mill building.
"We were over there most of the day [Monday, Jan. 23]," fire chief Dan Musgrave said. "We've turned it over to [Idaho Forest Group] now."
Musgrave said he could not speculate on the monetary value of the loss. Aside from the structure, scrap iron also was lost in the blaze. A lift truck owned by Hahn Rental and a scissor lift owned by one of the contractors also were destroyed, he said.
The Idaho County Sheriff's Office dispatch received a report of the fire at 6:16 a.m. Thursday, Jan. 19. Responding agencies included ICSO and Lewis County Sheriff's Office, Kamiah and Kooskia fire departments, Glenwood-Caribel Volunteer Fire District and the Nezperce Fire Department.
Kevin Esser, IFG chief financial officer, said the building that burned was in the process of being demolished. The contractors working inside the structure had bought the equipment stored at the site.
IFG purchased the property, which includes several structures, from Blue North after it closed in May of 2016. This particular building was an aged wooden structure, dating to the 1940s, which Esser said wasn't useful. It originally was the mill building where logs were cut, he said.
Esser estimates there was "minimal loss" due to the fire. He also said IFG had no intentions of rebuilding the mill and has long-term plans of selling the land.
The fire was contained to one building and was under control in a short period of time, Esser said.
"For me, the most important thing was there were no injuries," he said.
Blue North began operations as a sawmill/planing mill in 2010 at the former Three Rivers Mill site. Three Rivers had been closed for three years at that time, according to Free Press archives. Blue North closed operations abruptly on May 3, 2016, and about 60 mill workers lost their jobs.
Esser said IFG held an auction last fall to sell off excess equipment at the site.