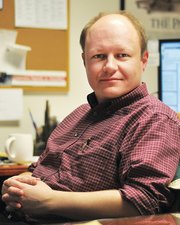 Your voice made a difference. And as a result, the East Kooskia Bridge is headed for repairs and continued use.
Earlier this fall, Idaho Transportation Department announced the bridge would see reduced weight loads due to structural deficiencies, specifically in the arched trusses that support the roadway. The 481-foot-long steel-truss bridge was built in 1935, modeled after an earlier structure constructed in 1919 that collapsed due to a fire.
With the future of the bridge in doubt, Kooskia residents mobilized: the city council approached ITD requesting the agency make the necessary upgrades or plan for its replacement. Resident Bonnie Willis researched the bridge history and presented the council with an 800-signature petition in favor of saving the bridge.
That last factor, according to last week's Free Press story, carried weight with ITD in its decision to undertake bridge repairs within the next few months.
Keeping the bridge viable is an important asset to the community, agreeing with Willis' reasons for its historical value as well as the revenue to the community from passersby along this route. More prominent in our minds – reflecting back to the 2015 wildfire season — is the safety factor she raises; in the event of a fire, "having just one way in our out of the community is not a good option."
As a result of this process, we're pleased at ITD's consideration of community interests in this matter to re-evaluate and dedicate resources to bridge repairs.
More importantly, community residents were validated in their efforts to save an important community asset. Such a success should inspire all of us to not be so easily dissuaded in questioning decisions or determinations by city or state government, and to be "squeaking wheels" more often.