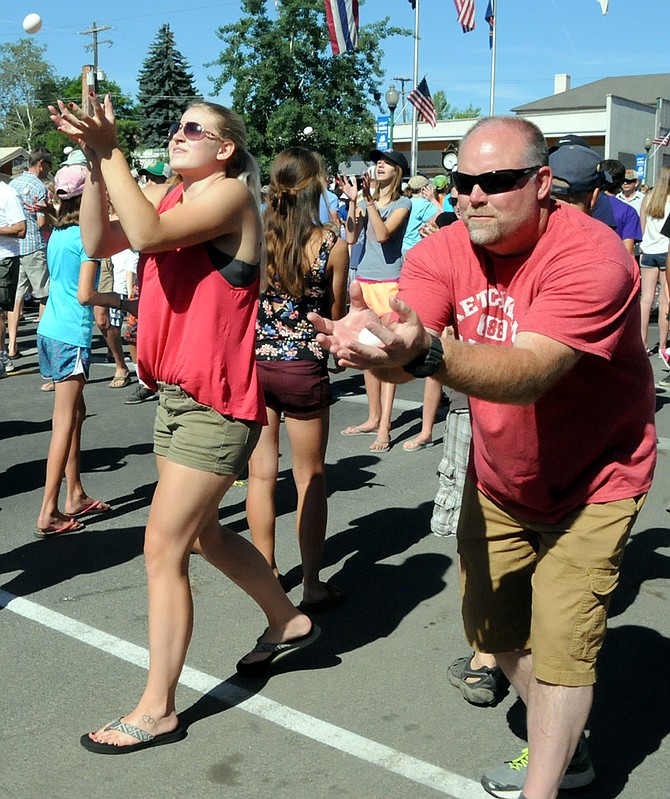 Photo by Lorie Palmer
Grangeville's Main Street was full of competitors Monday, July 3, as 1,270 people participated in the second-day egg toss of the Border Days festivities for 2017. (Due to early deadlines, Border Days event results will be in next week's issue.)
Photo Gallery
Border Days 2017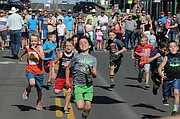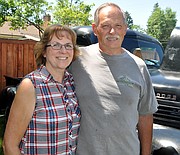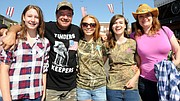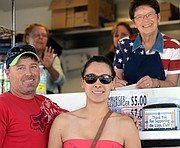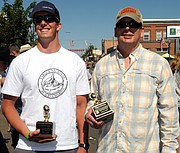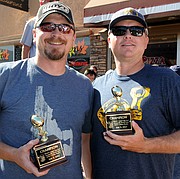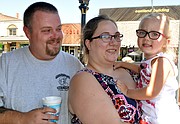 GRANGEVILLE — Sounds of joy, a few tears and lots of cheering filled the streets Sunday, July 2, as Border Days street sports kicked off on Main Street.
Names called for foot races included winners from Idaho, Washington, Oregon, Montana, California and even as far away as Pennsylvania.
For the day's first egg toss, winners were father and son team Tom and Grady Arnzen from Spokane.
"I grew up here, and we come back for Border Days to see everyone and participate," said Tom.
"This is our second time winning, I think the first was about three years ago," said Grady.
That first day, 1,076 people participated in the toss. Monday, July 3, 1,270 people participated and winners were Josh Bransford and Jeremy Harris of Grangeville. The three day's winners were to meet in a toss-off July 4.
•
July 3 was a big day for Grangeville City Councilor Amy Farris: She participated in the egg toss for the first time ever.
"Yes, I was born and raised here," she laughed. "But it was my first time. And I had fun even though I only got a few tosses in." Her partner was her daughter, Border Days 2017 Princess Micaela.
•
The Hardy family from Star, Idaho, has been attending Border Days celebrations for years and Sunday was no exception.
"I'm running," said Tony Hardy as he jogged down to the start line for the "free for all" foot races, then limped back to his family after the finish.
"Ouch, that's rough," he smiled.
He is the grandson of Bill and Della Kemp and with him were his wife, Rebecca, daughters Sarah, 13, and Ashley, 16, and niece, Jenifer Rogers, 14.
Were they having fun?
"Yes!" the girls smiled. They also participated in the foot races and egg toss.
•
Under the shade at the Powell residence on South Florence Street, Jim and Rosey Johnson of Lewiston were enjoying the July 2 Camas Prairie Cruisers Car Show.
"We do this every year, coming to Border Days," said Rosey, noting they are former Grangeville residents. "The first time we came was in 1973, and pretty much every year since."
For the Johnsons, their looked-forward-to Border Days events are the parade and the car show.
"And we like the atmosphere," she said. "It's just fun seeing people and all the other fun going on."
•
Lewiston resident Bobbie Jo Spencer came up to Border Days for her daughter – Ayla, 3 — to horse around:
"Last year we had her on the pony rides," she said, and they were up again, hoping the activity would be going again for Ayla to participate. Meanwhile, Spencer and her boyfriend, Dean Lehmons, were overseeing Ayla as she enjoyed an ice cream cone with one hand while dropping dimes in the fish pond with another.
"This is our second year here," attending Border Days, she said. So far, the pony event has been a family favorite, "and the parade, of course," she smiled.
•
Dave and Megan Glover got the first Lions Burger this Border Days, last Friday, June 30. They grew up in the area and moved to Fresno, Calif., and have continued to be Border Days regulars.
"We come to visit Mom and Dad every year," Dave Glover said, "and we always have a Lions Burger."
And as it worked out, his mom, Karen Tefft, was working in the Lions Burger trailer that morning. Tefft and others from the local chapters of the PEO Sisterhood had the first shifts.
Grangeville Lions Club members used to staff the trailer entirely on their own, and that work has helped the Lions to establish annual scholarships for Grangeville graduates, which Lions Burger sales help sustain. More recently, the Lions have teamed up with groups such as PEO, the Grangeville Eagles, Grangeville Youth Soccer, Snowhaven Ski Patrol, GHS sports teams, Boy Scouts/Cub Scouts, GEMS PTA and other local nonprofits.