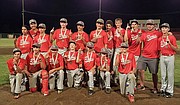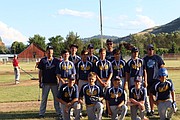 GRANGEVILLE — The CV Rams Babe Ruth team ran through the winners bracket to win their first Central Idaho League baseball championship since 2014.
Rams coach Josh Bradley reported CV faced off against the regular season's No. 1 seed, Prairie, in the championship game. After being down by 11 runs in the third inning, Rams rookie Carson Hunter came in and pitched "lights out," and "the CV bats started crushing the baseball," Bradley noted.
The Rams won by a final score of 19-13.
"Winning this tourney was no small feat as there were seven teams in the league this year," Bradley pointed out. "Only the top four got to participate in the season ending double elimination tourney."
Teams from CV, Prairie, McCall, Grangeville, Nezperce, Orofino and Kamiah participated.
The Rams had 16 play this season.
"Big thanks to my good friend and head Babe Ruth coach Willie Wingfield as well as all the fans and parents who supported the kids and the CV Rams baseball program throughout the season," Bradley added.
Keep up with CV Rams Baseball via the CV Rams Baseball Facebook page.