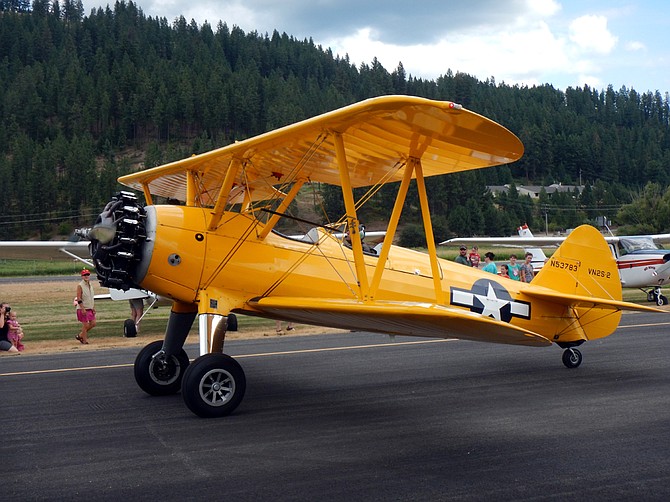 GRANGEVILLE — Vintage aircraft will be on display as part of next week's grand re-opening of the Idaho County Airport.
The public is invited to attend next Wednesday, July 12, 11 a.m. to 4 p.m., at the facility on Airport Road, across from the Nez Perce-Clearwater National Forests Office in Grangeville.
An estimated 35 vintage aircraft are expected to fly in for the event, a stopover by members of the Puget Sound Antique Airplane Club as part of their June 9-14 Northwest Air Tour. The public will be able to view airplanes and visit with pilots.
Next week's event serves to re-initiate the facility following last year's multimillion project that reconstructed the airport's 5,100-foot-long runway and adjacent taxiway to address issues with deterioration, drainage and proximity to each other and neighboring Day Road. During the six-month project, the facility was closed to fixed-wing aircraft.
"There are a few more things to complete," said airport manager Mike Cook, including finishing shoulder work in relation to the taxiway; but overall the project is substantially completed. Total project cost is approximately $7.3 million, 90 percent of which was funded by an FAA grant with the remainder covered by Idaho County (7 percent) and the Idaho Division of Aeronautics (3 percent).
"Pilots have been very happy with it," Cook said, on the reconstructed facility, which reopened last November. Good comments have come in from regular users that include private pilots, the Forest Service and Life Flight. "They've said it's really nice."
Objective of the Northwest Air Tour is to recreate the historic barnstorming tours of the 1930s that brought aviation appreciation to communities across the nation. A sampling of planes to be participating include pre-war Howards and Interstates; Stearman and Fairchild military trainers; and post-war Aeronca, Beechcraft, Bellanca, Cessna, Piper and Taylorcraft planes.