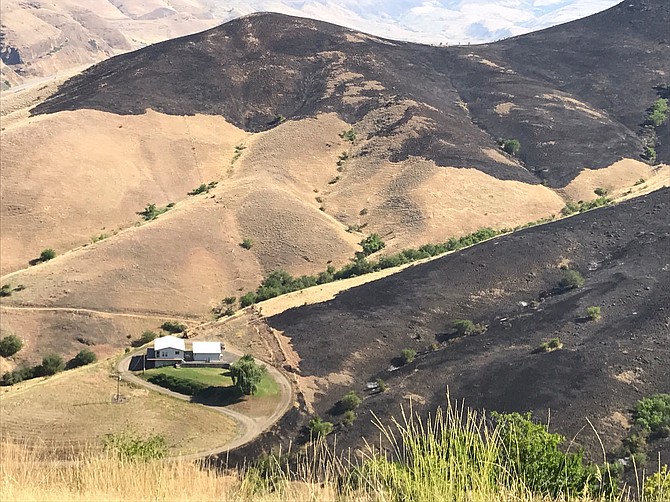 Contributed photo / Lisa Holes
This photo was taken on Banner Ridge the morning after the Whitebird Fire burned several hundred acres the night of July 7.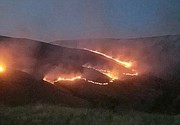 WHITE BIRD — Private grassland southeast of White Bird burned overnight July 7, with locals who stayed up late taking photos of the burning at Baker Creek waking up to find the swath showing little activity Saturday morning.
The fire area is within the Idaho Department of Lands Craig Mountain jurisdiction. It burned 421 acres at last check.
The Free Press posted information as it became available July 8. The Free Press will publish another report July 12.
Update (7 a.m. Saturday): According to Idaho County Sheriff's Office, the fire was called in at 6:46 p.m. July 7 by White Bird mayor Homer Brown, who, per ICSO, "advised that there is a huge grass fire by the school in White Bird that they believe was started from fireworks."
Update (7:30 a.m. Saturday): The fire, officially known as the Whitebird Fire, is contained at 300-400 acres, per Idaho Department of Lands, and while some IDL personnel remain on scene, air and ground resources that were ordered last night have been cancelled. The affected area is behind the White Bird School and on the far side of White Bird Creek from town. The cause remains under investigation.
Update (8 a.m. Saturday): Idaho Department of Lands had 70-75 personnel and nine engines on station last night, and has 40 on scene this morning. IDL has so far heard no report of harm to humans or structures.
Update (8:45 a.m. Saturday): IDL now describes the fire as 90 percent contained and 300 acres in size. From Idaho Department of Lands:
Fire crews worked overnight to successfully contain the Whitebird Fire near White Bird, Idaho. The fire is 90% contained at this point with full containment expected early this afternoon. The fire is estimated at approximately 300 acres.

The fire is burning in grass and brush. It was reported about 6:50pm last night and the cause is unknown. No structures are currently threatened.

Resources on scene include a 20 member Type 2 IA hand crew, 1- Type 5 engine, 3- Type 4 engines.

The fire is in the Idaho Department of Land (IDL) fire protection area. Cooperators include the US Forest Service, Southern Idaho Timber Protective Association, Salmon River Rural Fire Dept., Idaho County Sheriff, and the Idaho State Police.
Update (1 p.m. Saturday): Idaho Department of Lands now anticipates full containment will be complete at about 4 p.m. local time. "Crews have worked three-quarters around the fire perimeter and are mopping up hot spots," IDL public information officer Jennifer Russell said. "Winds are light and terrain-driven, and high temperatures of 101-105 in the region are a concern for firefighters as they work in the direct sun."
Update (5 p.m. Saturday): The Idaho Department of Lands investigation has determined the fire is "human caused and a result of fireworks," IDL public information officer Jennifer Russell said. The fire is fully contained at 421 acres, with nine IDL employees and two engines still on scene.
Update (9:45 p.m. Wednesday): The White Bird Fire Department pitched in from the very first moment and kept at it until about 3 a.m. Saturday, chief Bryan Lowe told the Free Press after the White Bird city council meeting Wednesday evening, July 12. Lowe was with White Bird mayor Homer Brown when they called in the fire, having seen how it started shortly before 7 p.m. Friday night. The department deployed one engine and six personnel who Lowe said assisted with the governmental firefighting effort late into the evening and during a flare-up the next morning.