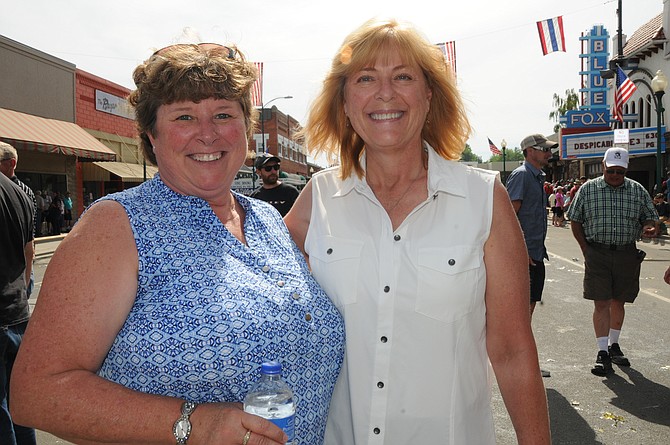 Photo by Lorie Palmer
Grangeville High School class of 1978 friends (L-R) Teresa Groom and Kim Cash Hulla are seen here following the July 4, 2017, Border Days egg toss.
GRANGEVILLE — For Kim Cash Hulla of Missoula, Mont., there is no question as to where she will be July 4 each year.
"I don't miss Border Days," she smiled.
And, no wonder. The Super Egg Toss was the brain-child of her father, Gary Cash and longtime friend Jack Marek.
"I'm not sure where they got the idea, but they were very community-minded and loved Border Days," she smiled. "I have never missed an egg toss."
Hulla, who graduated from Grangeville High School in 1978, married a smokejumper and settled in Montana. She is retired after 36 years with the Forest Service.
"I just want to point out, just because Kim is retired does not mean she is of retirement age," laughed Teresa Groom, one of Hulla's classmates and egg toss partners throughout the years. "We are much too young for that."
Hulla said she doesn't keep the same egg toss partner every year, but shakes it up.
"But I've never won," she laughed. "Tom Arnzen [winner on July 2 this year] did let me hold his trophy. I took a picture and put it on social media. Some people though I really won. Most knew better."
Even though she's been participating in the toss most of her life, she said she still has nerves when it comes down to it.
"I still get shaky," she admitted. "It's just that important. And fun. It is absolutely my most favorite part of Border Days.
Hulla said though she is settled in Montana, she loves to come home.
"When I crest that hill looking onto Grangeville, my heart flutters," she emphasized. "I'm home."
And though they "are not old enough to retire," Groom said they will have something extra to celebrate in 2018.
"It's our 40th class reunion," she said, smiling at Hulla. "It's going to be fun."