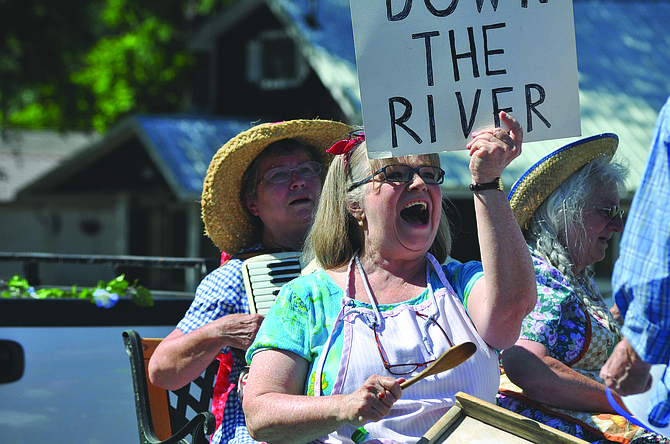 Photo by David Rauzi
Stites Days drew a large crowd for the all-day celebration last Saturday, July 8, that included the Main Street parade and kids' activities at city park. A musical entry in the parade included these enthusiastic members of the Grand Ol' Opry House Granny Band.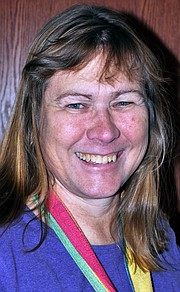 CLEARWATER VALLEY — On Friday night, July 14, the Kamiah High School gym will be open for families to play games and compete in activities. From 6- 8 p.m., kindergarten through seventh grade youth and their families are welcome to participate in this free, healthy, family-friendly event. A similar session for teens from 8th grade to 12th grade, and their families, will run from 8:30 -11 p.m. The open gym night is organized by the Youth Advisory Board of the Upriver Youth Leadership Council and the Kamiah After School Program. The theme is "families who play together, stay together." The youth organizers of the event are working to organize safe, fun, organized activities for the area's young people. It's great to see that this effort is driven by the young people themselves. Contact Upriverylc@gmail.com.
Have you ever wanted to drive the Elk City Wagon Road and not want to do it with just one vehicle? Sunday, July 16, you will have a chance to join the Friends of the Elk City Wagon Road on an all-day adventure trip on the historic road from the little town of Clearwater to Elk City. The event is part of the weekend long annual Wagon Road Days. The group will gather in Clearwater at 8:15 a.m., Sunday, for trip instructions and a history of the route. There will be stops along the way for points of interest. The group will arrive in Elk City about 4:30 p.m., and travel the highway back. It's a narrow rough road so need to have a tough and reliable vehicle, no RVs or oversized vehicle. People are responsible for their own picnic lunch and water. If you want to go along, call 791-4548, fdlohrey@centurylink.net or 926-4278, lands39@gmail.com.
Wagon Road days kicks off Saturday, July 15, with the parade beginning at 10:30 a.m. Retired school teacher and cattle rancher, Lauretta Crabtree, will serve as grand marshal. At 91, Crabtree is still going strong, continuing to live at her Battle Ridge ranch and planning to ride her horse in the parade. Other Saturday events include the Gospel Hour at noon followed by the Wagon Road Variety Show at 1:30 p.m. at the Baptist church. There will be craft booths, food service, rifle raffles, a hooked rug show and a gold panning demonstration along with the museum. Sunday begins with a breakfast from 6:30 to 10:30 a.m., and the adventure trip on the Wagon Road.
It's Christmas in July in Kamiah this weekend. The Clearwater Christmas affair will be at the Kamiah Legion hall on Friday, July 14, Friday noon to 8 p.m., and Saturday, July 15, from 9 a.m. to 4 p.m. The event includes some interesting vendor booths such as the "Oily Station" selling essential oils, "Claynation," selling jewelry made of clay and "M. M Farm Treasures" selling reclaimed wood signs and hand stamped jewelry. In the Christmas spirit you can buy hand-made, personalized ornaments and cards. The 4-H will be selling cold beverages including iced coffee and Italian soda and Hadley's homemade will be selling both sweet and savory things to eat.
A thought from the Silver Dollar Bar. A sign behind that bar reads, "taste your words before you spit them out." Pretty good advice for these hot summer days when it's easy to lose your temper.