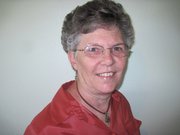 COTTONWOOD — Congratulations to Larry Seubert who earned some more medals at the Lewis and Clark Games this year to add to the handful he won last year. He brought home three golds and some silver medals this year in bowling, swimming and the softball throw.
Tri-Parish Picnic and Mass in the Park will be held Sunday, July 30, Cottonwood City Park. Mass will begin at 11 a.m., and barbecue follows immediately after Mass. Bring a salad or dessert. If you want a beverage other than punch, bring your own beverage and a lawn chair.
Youth ministry will be having a barbecue all day on Thursday, July 20. They set up their barbecue, shade canopies, tables and chairs on the lawn just east of the St. Mary's garage. Come enjoy a barbecue meal and sit and visit, or take your meal to go! Always good!
A retreat at Monastery of St. Gertrude will be held Aug. 11-13, Friday, 7:30 p.m. to Sunday, 1:30 p.m. A Sip of Silence with Sister Lillian and team leading the retreat. Contact by e-mail or phone, Spirit-center@stgertrudes.org or 962-2000.
An art show featuring the many talents in our community will be featured at the Raspberry Festival this year. The exhibit will be located in the Johanna Room of the Spirit Center. There is no entry fee and artists are responsible for any sales of their works.
To enter your creative work, preregister at www.MyRaspberry Festival.org or contact Krista Green at 962-2004 or kgreen@stgertrudes.org. Up to three pieces per artist are allowed.
All mediums are welcome. Drop off your entries at the Spirit Center on Saturday, Aug. 5, from 10 a.m. to 4 p.m. Include artists' contact information and pricing on pieces for sale. Art must be picked up on Sunday, Aug. 6, between 4 and 5 p.m.