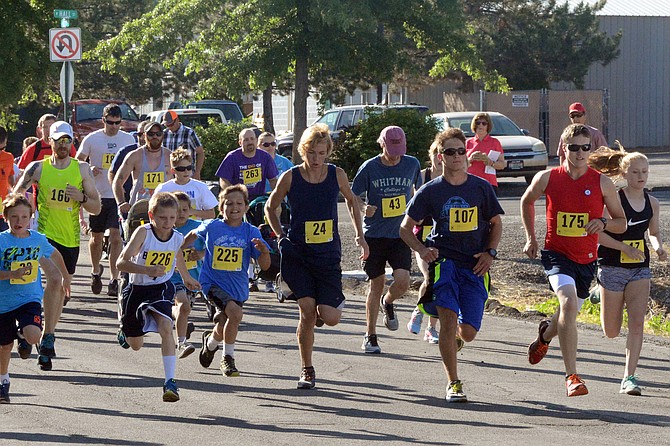 GRANGEVILLE — Brian Crowl won the 2017 Firecracker Fun Run July 4, finishing the new route in 18:10.09. The first female finisher was Lindsay McTague, who crossed the start-finish line, near the corner of Hall and West North Street, about six minutes later.
Organizers listed the top 100 finishers and times online at http://www.syringahospital.org/fun-run-results.html.
The top five overall included Adam Wonnacott (second, 19:28.9), Joe McGuigan (third, 20:40), Jake Meyer (fourth, 21:22.2) and Mickey Nelson (fifth, 22:19.7).
McTague placed 10th overall in 24:37.5, followed in the female division by Lori Courtright (second, 24.43), Kelly Collins (third, 24:59.5), Jill Armrick (fourth, 25:36.5) and Hayley Lambert (fifth, 25:50.4).
In the youngest girls age group (up to age 12), Jayleigh Schwartz placed first in 30:17. Tops among the youngest boys was Grasyon Albers (27:50.5).
McTague topped the teenage girls group and Wonnacott topped the teenage boys group.
Christa Peterson (31:13.7) paced women ages 19-29 and Meyer paced that men's group.
Armrick led the 30-39 women and Crowl led the 30-39 men. In the 40-49 division, Kristin McTague ran the lead time (27:07.5) and Mike Connolley led the men (30:10.5).
Courtright led the 50-59 women and George Fischer (26:05.9) led the 50-59 men.
John Stegner was the only male with a recorded time (24:13.7) in the 60-69 age group and Lark Hall finished first in that women's division in 29:54.9.
No females ages 70 or older had times, and Greg Skinner (27:20.0) had the fastest time among the oldest men to race.