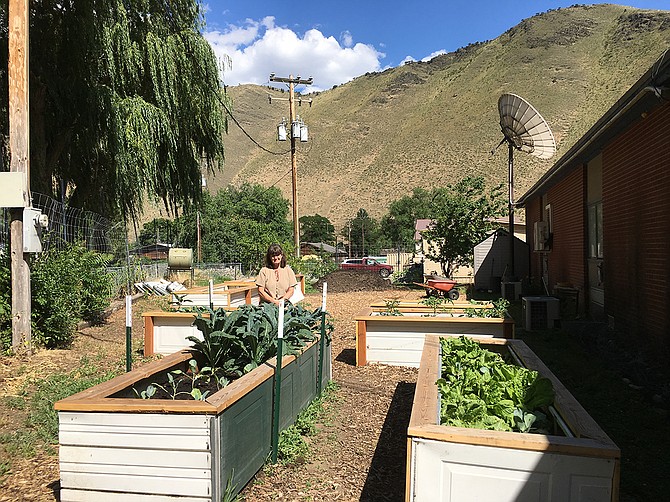 RIGGINS — "There is something about growing your own food that makes kids willing to try things they normally wouldn't touch," said Tracy Travis, fifth grade, Riggins Elementary School (RES) teacher.
Farm to School is a program led by the United States Department of Agriculture (USDA) focused on incorporating local foods into school nutrition programs across the country.
Inspired by this program, in 2008, RES, Salmon River Joint School District 243, started their school garden project in a 12' x 12' plot outlined with railroad ties.
"We have raised vegetables every year and our fruit trees provide delicious fruit for our whole school to snack on," Travis explained.
"The school and the Parent Teachers Organization (PTO) helped us get started with monies. They also helped put up a fence to keep deer out," said Travis.
"We sell the produce from the garden during the summer to local restaurants, and in the fall we use the produce as a bonus to our fresh fruit and vegetable program," said Linda Kern, food program director and RED secretary.
Travis and her students raise two kinds of crops: summer and fall.
"First, the items we plant that produce during summer, things like lettuce, cucumbers, and strawberries, are sold to local restaurants," Travis said, "We use that money to replant the following year."
"The second kind of crop is what we can consume ourselves when we come back in the fall. We eat fresh peaches and apples, corn, beans, kale, peppers, and tomatoes," said Travis.
Expanding each year, by 2016, the school garden had a total of 12 tons of potting soil and four truckloads of dried horse and cow manure tilled into the ground.
Travis said, "This year we are planning to upgrade to raised beds and a drip watering system. This will help keep the weeding to a minimum and make harvesting easier."
Recently, several Riggins folks volunteered their time and tools to raise the garden beds. Also, a donation of 15 blueberry plants has been added in the school garden soil.
"Each year we try to plant something different. For example, one year we planted a couple of varieties of eggplant. That fall we made eggplant parmesan and the whole school sampled it. Some of the kids had never tasted it before."
Travis continued, "Another first was planting kale. Now every year we make kale chips for our back-to-school night. It is easy to prepare with the kids helping during our After School Program (ASK)."
"We are having a slow start due to weather this year," Travis shared.
Schools present a great opportunity for farmers, ranchers and food producers to market their products.
The agricultural industry appreciates teachers like Travis who not only teach students where food comes from, but also take the time to show kids how to grow a productive crop.
"Gardening has proven to be a great experience for the students and staff," said Travis. "It gives students an insight to where the food they eat comes from and it encourages them to try new and different foods."
Shelley Neal covers agriculture stories for the Idaho County Free Press. She lives in Lucile. Garrett.neal@verizon.net