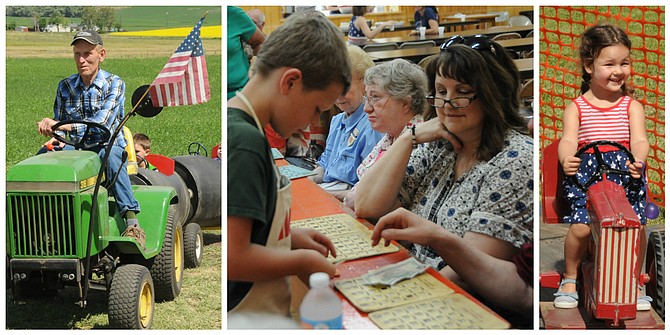 Photo by Lorie Palmer
(Left) The annual Greencreek Independence Day celebration drew hundreds of people to downtown Greencreek July 4. Vern Sonnen is shown here pulling a train of kiddies in the field behind St. Anthony's Parish; (middle) The day's participants played Bingo in the Greencreek Hall throughout the Fourth of July; and (right) This little one is happy to be riding an old tractor set up on a merry-go-round track.
GREENCREEK — The sleepy little town of Greencreek, Idaho, located 5.5 miles east of Cottonwood, is home to local farmers, an auto body shop and longtime families.
Although Greencreek does not have its own post office, it does bear its own zip code (83533). The 2015 U.S. Census reports say the five-year estimate population for the unincorporated town is 153 people. However, this certainly doesn't take into account the town's annual Fourth of July celebration.
"I think they served anywhere from 900 to 1,000 people for breakfast this morning," Mary Uhlorn pointed toward Greencreek Hall, located on the town's main street next to St. Anthony's Parish. "There were people lined up before 7 a.m."
The tiny town had cars parked in lots and on both sides of the road for a quarter mile Tuesday, July 4. At 10:30 a.m., breakfast was finished and the Greencreek Altar Society ladies were setting up for what was expected to be a large lunch crowd. In one corner of the hall, people from as young as 5 to as old as 92 were playing Bingo.
"My mom, Rita Wassmuth, plays every year. She's 92," smiled Karen Lustig.
Karen and Doug Lustig live on the outskirts of Greencreek, just over the hill from where she was raised on the Clarence and Rita Wassmuth farm, one of 11 children.
"It was a great place to grow up, and then when Doug and I married and moved close-by, it was a wonderful place for our children to be close to their grandparents and other relatives," she said.
Karen and Doug's own five children, she said, had all been in and out of town for the festivities that day. Doug was manning the dunk tank outside as she was playing Bingo with her mother, taking a break when some of Rita's grandchildren came by to visit.
"It's a lot of fun every year, and some of the kids' rides you see outside – well, I thought they were old when I was little!" she laughed. "This is a day the town really comes to life."
Outside, a variety of old-time kiddie rides are free for the taking.
Aside from the dunk tank and a bouncy house, a small carousel was set up with wooden characters including a duck and a horse. In addition, old-time metal kids' cars have been placed on a track and attached to a power drive system that has turned the cars and tractors into a round carnival ride.
"And it's all free," said Julie Schumacher, whose youngest daughter, toddler, Jordan, learned to enjoy the ride after a few tears – and then didn't want to get off of the ride.
"These have been here since I was a kid," said her husband, Greg. The Schumachers raised two sons in the area and now are raising their two daughters there.
Another kiddie ride, added eight to-10 years ago, attendees estimated, was the "train" pulled by Vern Sonnen on a John Deere tractor. He weaved the passengers in and out of a perfect pattern, caterpillar style, for hours.
"I think I have only missed two years," said Eric Nuxoll, who returns to Greencreek with his wife and children each Fourth. He grew up on a farm down the road, the son of Ivan and Dina Nuxoll.
"It's a lot of fun and my kids love it," he laughed as a friend threw the perfect ball that landed one of his sons in the dunk tank. "They get right in there and participate."
Adults sat in the shade and visited, awaiting the street sports and auction set for a little later in the day.
"It really is a good time to see everyone and get some visiting in, as well as good food," Karen said. "The celebration has not changed much in my lifetime, except more people come from further away. It's nice."
This year's celebration was dedicated to 1992 Prairie High School graduate Keith Wassmuth, son of Virgil and Donna Wassmuth, who was killed in a vehicle accident May 28 of this year.
"Keith never missed the celebration in Greencreek and loved to play Bingo," recalled Donna. "He always finished the day with a hand full of winning tickets to get Bingo prizes!"