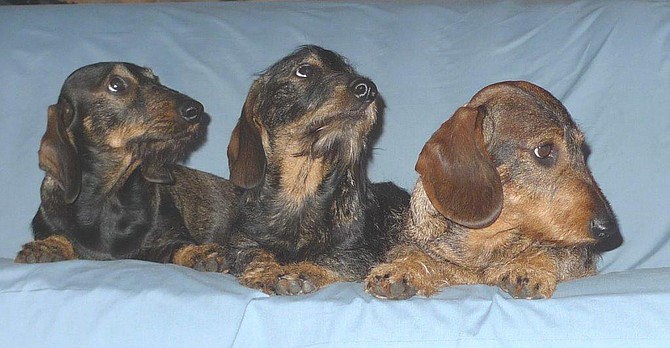 Contributed photo
One of the Idaho County produced pups out of Dossie Von Hibbs, at the age of six months was the first Oklahoma Fish and Game certified blood tracking dog ever. 75 dogs attempted the course and only three qualified. From left are Dossie, Scout and Chui.
I have been asked on many occasions "what the heck is a Teckel? They look like Dachshunds to me."
I am not in any way being derisive about Dachshunds; they are great little dogs, but the fact is the Dachshunds and Teckels may look a good bit alike but there is a definitive difference in their attitude, strength, and particularly their purpose.
Dachshund type dogs go all the way back to Ancient Egypt; where they were used for hunting by the ruling class. There are today many existing hieroglyphs that depict this very distinct type of canine during periods that date back to before the time of Christ.
Official European registry goes back to the 15th century. The Deutch Krieger German registry originated in the 18th century and still exists today in various forms. The world wide body that today carries on this registry is Deutscher Teckel Klub (DTK) which is headquartered in Germany.
The North American Teckel registry is overseen by the North American Teckel Club (NATC). This American group strictly follows the standards and goals of the DTK. Numerous Types of very demanding field tests and trials are held each year specifically for this breed. In the U.S. these trials are held under the direct supervision of the NATC. There are also numerous blood tracking field trials that are open to all breeds. These trials are widely attended by Teckels, Drathars, Kurzhars, and Black Mouthed Curs. The Teckels routinely win championship status in these open trials.
Idaho County's Dossie Von Hibbs, Chui Von Hibbs and Scout Sniper USMC, are all certified blood trackers and are direct sons and daughters of National Champions that originated in Germany.
Teckel field standards demand an enthusiastic, almost fanatical hunting instinct but the animal must also be under complete control by the handler. Strength, stamina, perseverance, and intelligence are an absolute must. 100 years ago the Teckels and Dachshunds were the same dog but the German Teckel Society was very demanding about what got registered. The Germans wanted a bigger stouter dog that weighed in at from 20 to 25 pounds. Coarse wiry hair with darker color was and still is desirable. This coat characteristic is referred to as wild boar. The American breeders were emphasizing a smaller finer boned animal. Today the vast majority of Teckels are of the wild boar type.
20 years ago the majority of Teckels were imported directly from Germany. This is often a difficult process as the DTK greatly discourages the shipping of puppies as baggage. The club stipulates that they should be carried by a handler in the aircraft cabin. There are, however, several professionals that specialize in transporting puppies on intercontinental flights. To purchase a puppy from Europe the cost can be upwards of $3,500. This puppy transport rule is also recommended by the NATC.
Today, there are several Teckel breeders in the south and east of the country but very few in the Western USA. If you are interested in acquiring a registered Teckel you need to plan way ahead as the wait can be up to two or three years.
In order to be a member of the North American Teckel Club a breeder must sign an extensive and very specific code of ethics agreement. If a breeder violates any one of these ethical standards they will be removed from member status. These ethical agreements include but are not limited to: All applicants for puppy purchase will be thoroughly screened as to their intent for the pup and that the purchasers will be able to properly nurture and train the animal. No pups will be sold to pet shops or other puppy mill type operations.
To my knowledge there are only four Teckels in Idaho and three of those live in Idaho County. These three fanatical hunters are all the property of Yellow Wolf Ranch. These small but mighty trackers regularly volunteer their services, through the local game wardens, in order to find wounded critters that would otherwise be lost. If you are fearful of losing a wounded animal there are several officers that can assist you in making contact with a tracker.
Idaho County has produced some very remarkable Teckel blood trackers. Yellow Wolfs Olivia, a seven-month-old extraordinary tracker that was whelped in Idaho County, recently became the first certified blood tracker in the state of Oklahoma. 85 dogs of all breeds tried out for certification; only 3 made the cut.
For further information on this type of hunting dog go on the Internet to www.born-to-track.com or TrackingTeckels.com.
Edd Woslum of Yellow Wolf Ranch near White Bird is president of an Idaho firearms manufacturing firm, a 40-year competition shooter with rifle, pistol and shotgun, an outfitter in both Idaho and Africa, a staff writer with Precision Shooting Magazine, and field editor of African Hunter Magazine.