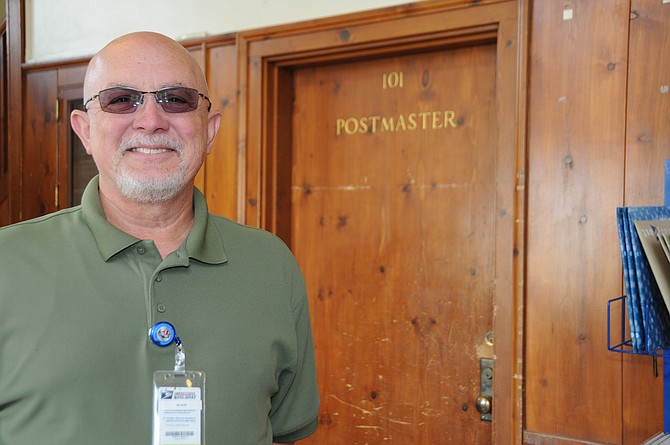 Photo by Lorie Palmer
Jim Ward is the new postmaster in Grangeville. He was born in Georgia and most recently moved from Tennessee.
GRANGEVILLE — Area residents may notice the sound of a slight southern drawl when they walk into the United States Post Office in Grangeville.
"Come on, I don't have an accent – I think you all do," laughed Jim Ward. Ward is the new postmaster, having been in Grangeville just less than two months now.
Born in Albany, Georgia, Ward most recently came from a post office in Chattanooga, Tenn.
"It's right on the border of Georgia," he said, and the office employed 60 people.
Following high school graduation, Ward spent a year in college then made the choice to join the Marine Corps where he was part of the Atlanta Force 6th Fleet. He served in the Corps for seven years.
"I was in junior ROTC and then ROTC in college, and I just felt it was something I wanted to do to serve," he said. "It was a way to see the world and see what was out there for me."
Not only did he serve in the combat force, he was also a weatherman and a recruiter.
After his discharge from the service, he began working for the postal system and was eligible to retire at age 56. He said he and his wife of 37 years, Angela, began to look around to see what was available for the next chapter in their loves.
"I felt 56 was a little young to retire," he said. So, when he found the position open in Grangeville, he and Angela read about the region and researched it and felt it was a place they would like to live.
"I interviewed on the phone, and here we are," he smiled.
The couple, who have two grown children, are avid RV'ers and he said they were ready for "that next adventure."
Along with their Golden Retriever, Skye, they have set up their home on wheels at Bearden RV Park on the outskirts of Grangeville and may look into purchasing a home later.
"Right now, we are just enjoying exploring this beautiful area and experiencing the great weather," he said.
Ward said he wasn't sure what he would walk into at Grangeville's USPS, because they have been without stable administration leadership for a time.
"But what I walked into was a great staff who works very hard," he said.
He has been working on infrastructure issues – thus the repaired front steps and drive-through median where the blue mail collection box is located – and getting the postmaster office and paperwork in order.
"I want it to be ready for whenever the next person walks in, just ready to go and easy to navigate," he said, "whether that's a year or five years from now."
Grangeville's USPS employs 10 people and still has several "park and loop" city routes.
"I started as a city carrier myself," he said, explaining that routes that are able to use vehicles for delivery can, obviously, deliver much quicker.
"Walking route carriers can deliver 60 to 80 pieces of mail per hour, while a vehicle route can deliver 140 to 160 pieces," he said. "We want to do things as efficiently as possible while still maintaining the integrity of the town, its people and the relationships."
Ward said although the volume of mail overall has been down for the postal system, the parcel delivery portion has risen. The post office contracts with other delivery services to deliver their packages to final destinations, especially rurally, he said. USPS is one of the primary postal stops for Amazon delivery, as well.
He also said the USPS's busiest times of the year are Mother's Day, the Christmas season (as early as mid-October through Dec. 23), and then again in February or March.
"I think people get around to returning things then, or maybe they're purchasing accessories for their items," he said.
Ward enjoys fishing and marksmanship, would like to spend some time getting back into hunting, he said. His wife is an experienced rock-hound who enjoys finding rocks of different types and researching them.
"I told her the only thing is, we cannot fill the RV with rocks – if something comes in, something else has to go," he laughed.
Ward said he is excited about the opportunity to be in Grangeville and has already been welcomed and enjoyed meeting people and experiencing small-town life.
"And as for the staff here, I learn as much from them — or more — as I teach them," he smiled.