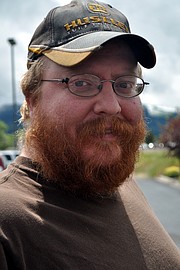 Idaho County Commission chairman Skip Brandt has a problem. And he's about to turn his problem into your problem.
The problem is one taxpayers pay commissioners to solve. There is a hole in the revenue side of the county road and bridge department's fiscal 2018 budget – a hole where federal forest funds used to fill in for lost federal timber revenues.
Why is there no more federal forest funding? Ask your Republican friend or neighbor and they might tell about the timber wars, or explain how the national debt is a bigger national threat than a North Korean nuke. Ask an Idaho Republican Senator – Jim Risch or Mike Crapo – and they'll say they're doing what they can to restore the forest funds. (See the June 14 Free Press, "Bill would extend Secure Rural Schools," on 4A).
Ask Democrats and they may blame President Trump. They may have a point. There is no money for SRS in Trump's budget.
Don't expect Brandt to ask Trump to change his budget.
Expect Brandt to ask you to change your budget.
Losing federal forest funds means the county will raise next year's taxes big time or will severely cut road and bridge department services.
Under state law, the county could add more than $658,000 to the existing countywide levy on nothing more than the commission's vote. But in two meetings this month, the commission has been talking about taking more than $953,000 from taxpayers who live under the road and bridge department's jurisdiction.
To take that much, the county would have to ask voters to approve a new supplemental levy.
Not all voters.
This tax would land only on those who live under the county road and bridge department jurisdiction.
Those taxpayers would decide whether to approve this tax, and if they approved it, they would be obligated to pay it without help from the rest of the county. And for those taxpayers, the supplemental levy would add about $225 per $100,000 to the roughly $233 per $100,000 the county took last year.
The other highway districts – and the people who live in them – face different yet similar decisions. They all got forest funds in 2016, but it looks like none of them will under Trump. The county's vote wouldn't solve the highway districts' problems. The highway districts have to decide whether to tax themselves or to cut their own services. (Some have deeper reserves than others.)
For now, Brandt has the tough decision. With support from either of two men – Mark Frei or Denis Duman – the commission could raise taxes. Not enough to cover the cost of all the services the county has afforded with federal help, but significantly.
For two weeks, Brandt has sounded like he is ready to punt. During the July 5 and July 12 county commission budget sessions, he has heard and has even voiced some of the problems with holding a road and bridge supplemental levy vote this November. It could go without saying voters aren't likely to approve a new tax if they don't know why the local government needs their money. Holding an election for this would cost about $30,000 – a high price to pay to notify voters their plows may be on lockdown for lack of funds this winter. Spending so much on a political blame game would be an astonishing waste, especially in tight times. And the vote would come too late for the budget, which is to be finalized Sept. 5.
But given the stakes, the county can't afford to lay this burden down. Neither can county taxpayers.
All of us.
I took it to heart when, back in March, county road and bridge department head Gene Meinen told the commission: "It'd just be a shame to finally get the forest management issue sorted out and for there to be no roads to haul on."
The budgeting decisions will be made by early-to-mid August, with firm numbers to be printed in the Free Press legals Aug. 9 or Aug. 16.
If you're wondering about taxing district boundaries – school districts, cemetery districts, highway districts, and so forth – you can find an interactive map online at http://idahoparcels.us/county/idaho.html. (There's some important legalese in the disclaimer to read before using.)
If you'd like to let Skip Brandt know what you think, you can give him a call at 935-5217 or send him an e-mail at sbrandt@idahocounty.org.
If you'd like to let me know what you think, you can give me a call at the office, 983-1200, or on my cell at 507-0675, or send me an e-mail at aottoson@idahocountyfreepress.com.