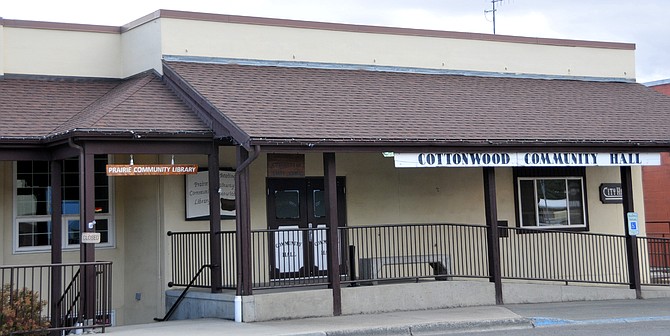 Photo by Laurie Chapman
Among the city projects recently wrapped up is the Cottonwood Community Hall.
COTTONWOOD — Cottonwood's city streets director reported on a looming crisis during the City Council meeting Monday, July 10. According to Jack Duman the culvert carrying Cottonwood Creek below a portion of downtown is rotted.
"I took some photos," Duman said. "It's difficult to grasp what it really looks like. The whole bottom is rotted out."
The damage spans between Lewiston Street and at least to The Tire Guy. Duman said estimates on repairs will easily reach $300,000.
"It's a huge, huge, huge problem," he added. "I just don't think it's going to make it another winter."
Currently, Duman is researching possible funding through the Federal Emergency Management Agency and also state funds. A portion could be fixed in cooperation with Idaho Department of Transportation, but that work would not evolve for two to three years.
Compounding the problem is the fact that a 16-inch water main sits directly underneath the culvert.
On a positive note, Duman said current street projects were expected to be completed very soon, and may already be finished. Sidewalks were added along East Street and a portion of Foster Street.
The bulk of the meeting, however, revolved around contracts between the city and the Idaho County Sheriff's Office (ICSO). Sheriff Doug Giddings and ICSO administrative assistant Trudy Slagle provided statistics and financial data.
At issue were two concerns: one, the memorandum of understanding (MOU) for City of Cottonwood officer Jason Rambo; and two, a request for the city to enter into contract with ICSO.
Giddings states Rambo's MOU needs to be updated to address concerns with party patrols that occur outside of city limits. Rambo receives funding for his position through a grant allowing him to investigate underage drug and alcohol use. Oftentimes he is at Prairie Junior-Senior High School (PJSHS), which exists in the county rather than the city. This creates a dilemma for ICSO as Rambo has to call ICSO for assistance to write citations in the county.
Addressing the city council Giddings said, "You've created a position in the county with the sheriff's office. We like Rambo and we want him to continue. He has to know what the policy is. That has to be clarified."
Council member Ron Grant asked for clarification the MOU was inaccurate, which Giddings verified. Both Giddings and Cottonwood Police Chief Terry Cochran stated the MOU was written seven years ago and have already begun to make adjustments.
PJSHS principal Jon Rehder and superintendent Rene Forsmann were in attendance, as well as Rambo's wife, Megan. Rehder offered support for Rambo's position being retained as it offers a positive presence in the schools. Both questioned how the MOU would need to be adjusted in respect to Rambo's position in both the elementary and secondary school.
Mayor Shelli Schumacher asked all parties to offer input towards the process of updating Rambo's MOU.
Lastly, Giddings noted that ICSO handled 21 percent of the calls originating in Cottonwood during 2016. Using the analogy that a city clerk wouldn't work for free, Giddings states he would like the city to consider a contract to reimburse ICSO for their assistance.
"Our request for the contract is that you pay us $40 per hour," Giddings said. "We need to charge you because you have a police department. That means you cover your own business, we don't."
Giddings clarified that if the city department was working a call and couldn't respond to additional calls, the ICSO would not charge to assist. If the city is understaffed, the city would be billed for ICSO providing services.
Under state law, a sheriff's office is required to respond to all serious crimes in the county, which Giddings said include felonies and other "serious business." They are not required to enforce city codes.
Currently, Giddings and Slagle noted ICSO has a contract with the cities of Kooskia, Stites, Riggins, Grangeville and Cottonwood.
After much debate, Giddings agreed to draft a MOU for the city to review and will present it at a future council meeting.
The city council will meet again at 7 p.m. July 31 at the Cottonwood Community Hall.