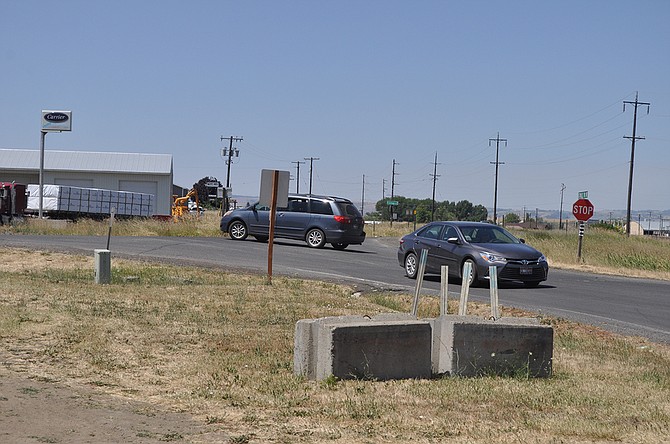 Photo by David Rauzi
The U.S. 95 intersection at the Grangeville truck route is one area proposed for improvements in the Idaho Transportation Department plan.
An estimated $86 million-plus in Idaho County infrastructure work is being proposed – starting next year and through 2024 — as part of the Idaho Transportation Investment Program (ITIP).
The Idaho Transportation Department (ITD) is seeking public comment on statewide ITIP proposals – 25 of these projects in Idaho County — through July 30. From comments, ITD will determine if the projects meet its three main objectives of improving safety, mobility and economic opportunity.
Within Idaho County, the largest project line item — $15.420 million – is for pavement resurfacing, restoration and rehabilitation along nearly 23 miles of U.S. Highway 12 from Warm Springs Pack Bridge (milepost 151.43) to the Idaho-Montana border. Work would be conducted starting in fiscal year 2018. Nearly 93 percent of this project would be federally funded.
Next largest at $11.330 million, 16 miles on US 12 from Bald Mountain to Post Office Creek would receive pavement rehabilitation, along with replacement of all signs, guardrails and deficient pipe culverts; set in 2021.
Several bridges would be replaced as part of the proposal: $1.189 million, Clear Creek (a primary access to Nez Perce Tribe Clear Creek Fish Hatchery); $1.770 million, Fish Creek (US 12, milepost 120); Maggie Creek, $1.320 million, (US 12, milepost 76.8); Hat Creek, $900,000, (near Pollock); and Shebang Creek, $1.7 million. All these projects would be 93 percent federally funded.
In 2020, pavement restoration would start at the Time Zone Bridge, U.S. Highway 95, and the rehabilitation and resurfacing would extend more than 12 miles north past John Day; $3.604 million.
Turnbay construction is proposed in 2021 for locations in Grangeville and Kamiah. At the Grangeville truck route bypass at US 95 north of town, southbound and northbound bays would be built, $759,000. East of Kamiah on US 12, milepost 69, turnbays would be constructed for both eastbound and westbound traffic; $690,000. All these projects would be 93 percent federally funded.
A $4.942 million pavement restoration project along the White Bird Grade, US 95, would extend more than seven miles and include guardrail and terminal ends replacement; set for 2020.
On State Highway 13 south of Kooskia, curve improvement at milepost 23.5 will involve base and subbase reconstruction and realignment, $1.154 million, set in 2021. Widening is planned in 2018 along an approximate seven-mile stretch of US 12 from Tumble Creek to the Lochsa Historical Ranger Station, $7.833 million. Both are 93 percent federally funded.
Addressing an accident-prone location south of Cottonwood, a $26,000 project would improve safety at the Graves Creek and Twin House roads intersection with solar powered beacon lights and larger stop signs; set for 2018 (90 percent federally funded).
Additional proposed work includes crack and chip seal work on Dixie Road; culvert replacement on Sally Ann Creek Road; repairs and overlay on Mount Idaho Road to the top of Harpster Grade; and culvert replacements on State Highway 14 with fish-friendly bottomless pipe culverts at Peasley Creek and Moose Creek.
All comments on the draft will be reviewed after July 30. After approval by the Idaho Transportation Board, the ITIP is submitted to the Federal Highway Administration, the Federal Transit Administration and the Environmental Protection Agency.