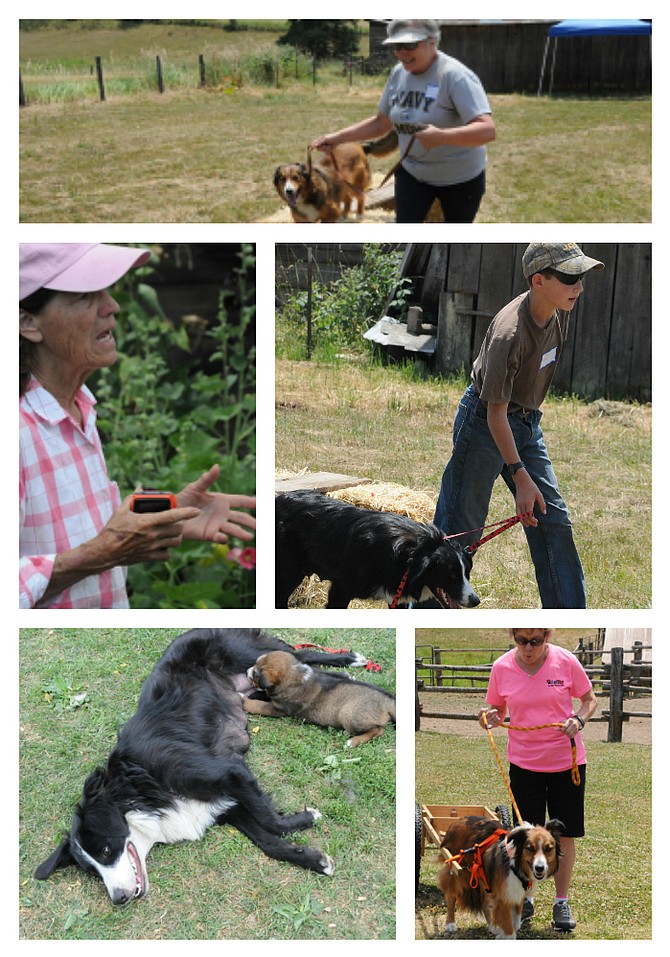 Photo by Lorie Palmer
(Top) Kris Hazelbaker works on an agility course; left, Ginger Busta talks to a shepherd lover; Gabriel Pogue leads his sister's dog; and a female dog nurses her pup; (bottom, right) Gail Pettinger "carts" with one of her English Shepherds.
HARRIS RIDGE – "There's a lot of English Shepherd people out there," laughed Kris Hazelbaker.
Hazelbaker and about 30 others from throughout the region and beyond gathered Saturday, July 13, at the home of Ginger Busta on Harris Ridge. Their commonality? Dogs. English Shepherds to be precise.
The group met via Facebook and through other English Shepherd sites and groups, and Busta wanted the chance to host the group at an informal gathering. Her property provided the perfect setting for agility trials, walks and pond exploration, as well as a place for people to park and camp.
"I've had shepherds since 2000," Busta said. "I was looking for a good herding breed to help on the ranch – and I found it."
Busta has one male and two females.
Hazelbaker, of Grangeville, obtained her shepherds in order to be stock dogs as well.
"But now that we don't have cattle, they are still a wonderful companion dog for hiking," she said.
Hazelbaker said instinctually the dogs are great for working.
"They definitely need a job," she said.
She has five of the breed, and one of the things they do well, she said, is keeping the deer off their ranch.
"We don't fence the garden, but we don't have any problem with deer getting to it," she laughed.
The English Shepherd is not an AKC breed – and enthusiasts want to keep it that way.
"There is no standardized version and they do not have all the problems that are bred into AKC dogs to get them to a certain conformation, look, specific size," she said.
For Maureen Campos of Turlock, Calif., competition has been high on her list.
"I love to compete in the nose work category," she explained, where the dog finds certain objects. She has had her shepherd more than eight years and is now considering a companion dog. At Saturday's gathering, dogs searched a hay-filled barn for rodents hidden in tubes. They had to decipher whether the tubes held nothing, mice or simply rodent bedding.
Pete and Gail Pettinger of Spokane, Wash., work their dogs in agility contests as well as "carting."
"Good boy, Bugsy," Gail coaxed the dog into his turns as he pulled a small, homemade wooden cart with a miniature "Kansas" license plate fastened to the back.
Twenty-year-old Kacy Pogue of Kimberly, Idaho, said she was raised with the shepherds and dreamed for years of having her own dogs.
When she was 15, that dream came true. She purchased her dogs and has since become a breeder.
"I lived in Texas when I started, then we moved to Kimberly, so my reputation is new," she said. "I definitely learned a lot with my first litter and made a lot of mistakes."
"I also made a lot of mistakes with my second litter, but maybe not as many," she smiled, as she and her younger brother, Gabriel, held two 6-week-old pudgy pups, one black and one brown.
Pogue said she feels lucky as she works in the family orchard business and has the flexibility to train her dogs and grow as a good owner.
"I've had a lot of fun at this gathering, and have learned some things, too," she said.
Busta was the ultimate host, offering hospitality that included having guests sign her kitchen walls prior to leaving.
"I was an outfitter cook for years and lots of people have come through – lots of memories," she smiled. "I cannot imagine living anywhere else."