Many things make up a home, but your floors are the important foundation to be considering.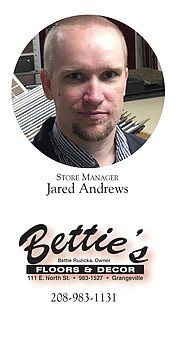 These take the brunt of you and your family's daily activity, and they are the first household items to show wear and tear. What your home looks like depends greatly on the right – or wrong –kind of flooring you choose.
A simple guideline to choosing flooring is determining traffic flow for that particular area. Is this an area with high use such as a kitchen, rec room or entrance area? Consider options that provide good resistance to scratches and scuffs, and have a resistance to water and water-staining.
An option to consider, recommended by Jared Andrews at Bettie's Floor and Décor, is the 100-percent waterproof vinyl plank flooring from Mannington Adura Max.
What's good right up front with this flooring option? "It comes with a pad attached and can be installed above and below grade, with no need for a moisture barrier," Andrews said.
FLOORING PROFESSIONALS LIST THESE KEY POINTS INRECOMMENDING ADURA MAX:
SCRATCH/DINGS/DENTS RESISTANCE: It has an aluminum oxide finish that withstands wear substantially better versus the standard UV-cured urethane. Its higher-density core makes it less susceptible to dings and dents.
PREMIUM LOCKING SYSTEM: Just like the flooring itself, its locking system is waterproof, preventing moisture from wicking to the subfloor.
QUIET: Its closed-cell polyethylene attached pad gives it an IIC Sound rat-ing of 72, versus other cork-backed products that rate 65.
DÉCOR VERSATILITY: The product is offered in today's popular decors and features to apply to your most challenging rooms.