Auction opportunities are out there every month. Whether you are buying or selling, GOBIDTODAY.COM is your local source for competitively priced goods ranging from motor vehicles to agricultural machinery and implements, to appliances such as refrigerators and washers/dryers.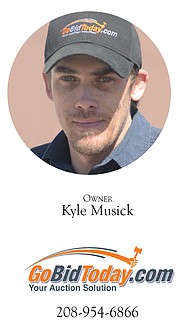 When it comes to buying everyday items, buying at auction can mean getting a better deal than at retail. Selling at auction can mean getting a fair price even if you're not sure how much something unusual is worth.
And that makes auction the right way to sell rare items, as in the recent news about a late farmer in southern Idaho who had assembled a collection of 70 classics – "Model As to MGs, Plymouths to Pontiacs, Chevys to Studebakers, Bentleys to Rolls Royces," as KTVB put it July 12.
Why auction?
"Auctions, when conducted correctly, are the best and most efficient way to sell your assets," GOBIDTODAY.COM auctioneer Kyle Musick said. "A major misconception is that auctions are only for distressed or discounted property. The fact is auctions are the primary sales method when selling valuable assets such as vintage vehicles, multi-million dollar homes and priceless pieces of art. Think of auction companies such as Barrett-Jackson, Sotheby's or Christie's Auctions. The competitive bidding of an auction and the bidding of prospective buyers sets the price and market value of an asset. The item will not sell for more than the highest bid and will not sell for less than the high bid. The bidders determine the market value of an item when sold at auction."
Neighborhood Experts: Gobidtoday.com