Did you receive a credit on your electric bill this month?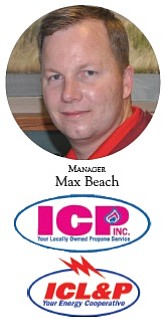 Many of Idaho County Light & Power's longtime members did.

In fact, around $104,000 was returned to our members in the form of a credit on their power bills or a check in the mail to those who are no longer on our system. In times when most electric companies are focused on large rate increases to increase profits for investors that don't even live in our community, we are returning our member's money, or as we call it, retiring capital credits.
This is a core fundamental of an electric cooperative since we are not-for-profit. If we have a margin in a particular year, or as some call it, a profit, that money is allocated to our members based on the amount of power they used that year.
From there we will use that money to invest in infra-structure, equipment and running our members' cooperative on a day-to-day basis. However, when that money is no longer needed to keep our members' Cooperative financially healthy, and their rates as low as possible, we return it to them.
While this takes some time, it will be returned to our members in the future. In fact, over the past 10 years, Idaho County Light & Power has retired a little over $820,000 back to its members and former members. What a way to do business!
These are just some of the core principles that we have lived by for the past 79 years and will continue to do so for the next 79 years. Idaho County Light & Power, your locally owned electric cooperative.