Healthcare today is much different than it was even just a few years ago, and much of that change has taken place "behind the scenes" in the area of electronic records and Information Technology.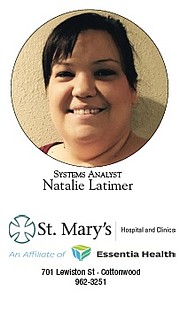 The advantages of electronic health records in the clinical setting are important for patients and providers and help to reduce medical errors, improve patient safety, and offer stronger support for clinical decision-making. This requires hospitals to have skilled Information Technology personnel.
Natalie Latimer currently works as a Systems Analyst, but she actually started as a unit coordinator in June 2007. Natalie didn't start out in Healthcare IT, but after obtaining her license in cosmetology early in her career, she decided she wanted to do something different.
"I worked for about two years as a unit coordinator and then, in 2010, I went to Boston for some training on a new computer program we were using and really enjoyed the training. When we got back, a Helpdesk position opened up and I decided to apply. About a year later I transitioned into the Meditech System Analyst position because I was doing a lot of the implementation," Natalie said.
Natalie said that the part of her job that she really loves is being able to help people. She also enjoys the experience of learning and says that every day there are new challenges. Recently Natalie has taken on even more challenges and says that she loves the constant learning that comes with working in this dynamic industry.
Neighborhood Experts: St. Mary's Hospital and Clinics Occupational therapy