"If you're doing your job well, you get attached," said Camilla Sonnenburg. "That's just how it is."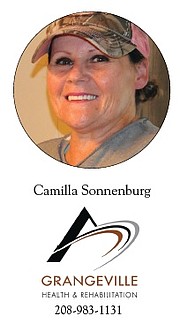 Sonnenburg has worked for GHR for 11 years and is the housekeeping supervisor. She also has her CNA certification, so she works the floor and deals with the residents on many different levels.
"I'm painting today," she laughed last week as she was busy re-touching a room. "We are constantly keeping things up and making them better." She also runs a crew of five others and continually keeps busy with the maintenance, housekeeping, laundry and with the residents.
"It's a family here – if I am gone a day or two, the residents notice and want to know where I am," she smiled.
Sonnenburg moved to Grangeville from California with her 3-year-old daughter. She wanted to be closer to her father. "I love it here," she smiled. She started cleaning at the Elk Horn and also cleaned houses and it was through that she met her husband, Les. They have been married since 1994. She went on to work for Mountain View School District in maintenance for 21 years before landing at GHR, where she has been for the past 11 years.
"My days are full and busy and I get up every morning happy to go to work," she laughed. "I thoroughly love my job and plan to work here until I retire."
She enjoys camping and four-wheeling with her husband as well as reading and spending time with her dog and cat, and visiting the Pacific Ocean.