Don Fritz started out in the automotive industry, moving from being a technician to running independent stores and eventually owning his own auto repair shop.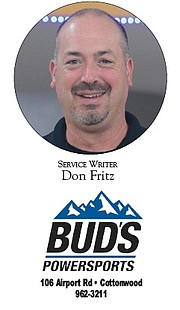 Having served seven years with the Air Force, having grown up in western Washington, he's most recently the newest member of the team at Bud's PowerSports.
His work and play overlap in the great outdoors – and not just when he has the chance to ride the backroads to work from his home in Waha.
"I live to fish and hunt," Fritz said. "I'm a precision long-range rifle shooter and an archer. You gain some of the best knowledge from people who are already doing it, no matter how long they have been doing it. You go out to a 3D shoot and you ask somebody what they think about a new rest and you'll get the pros and cons of it. Same thing with long-range shooting. Some of it is personal preference and some products just work considerably better than others."
That's a style Fritz brings to his work – he started June 26 at Bud's – where they offer a wide range of parts and services, including a full shop, not just for maintenance and repair. Bud's has the customizations people want. Whether roofs, windshields, rear sliding windows, new doors or something different, "we do it all," Fritz said.
As the new service writer, he steps in during a busy season: hunters are making appointments now to make sure their ATVs and side-by-sides can get in the shop for maintenance and repairs before the calendar fills and the days run out.