Tires get us to places we have to go, and more importantly, destinations we want to go. And North Central Idaho has lots to go see.
Make a stop at the Fenn Ranger Station.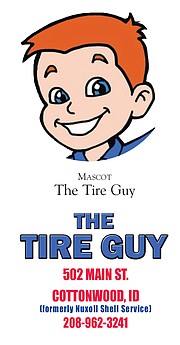 Named after Frank A. Fenn, first forest supervisor for the Clearwater National Forest, this historic facility was built by the Civilian Conservation Corps during the Depression years, 1937-1940, for an estimated $500,000. It was one of the most elaborate built by the U.S. Forest Service.
The station is listed on the National Register of Historic Places. Its design reflects its use as a dual district office, with buildings for the Middlefork and Selway ranger districts constructed in mirror image; the same with its two ranger residences. Fenn Ranger Station was the first of its kind in the area. Earlier Forest Service facil-ities were log structures built by the rangers on "con-=tributed time" and were subject to the skills of the individuals building them.
Find the station off U.S. Highway 12, five miles east of Lowell on Selway River Road (Forest Road 223). Interpretive materials, information and maps are available at the visitors' center, open Monday through Friday. When visiting, make sure to visit with Vern Uhlorn, who has been keeping the lawns at the Fenn Ranger Station in tiptop shape for more than 15 years.
Ready to travel? Check out The Tire Guy for your vehi-=cle needs, as well as for roadside tire assistance. We're here to help get you places: 208-816-8040 (ask for Rick) or 208-962-3241 (shop), 502 Main Street in Cottonwood.