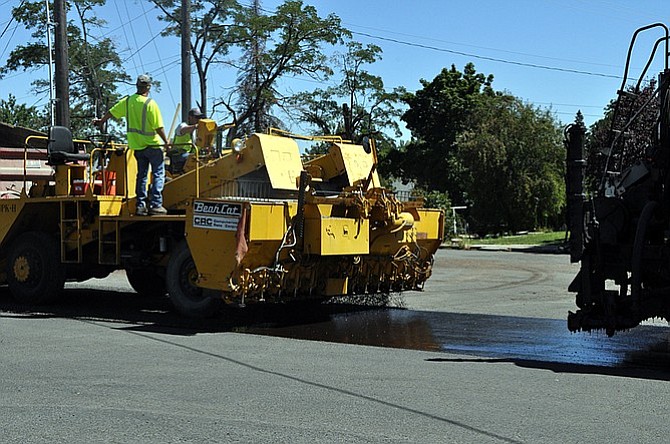 Photo by David Rauzi
Chip sealing work conducted along South Idaho Street, 2015.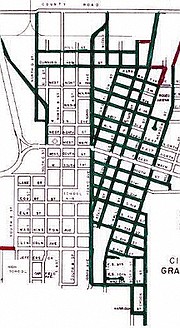 GRANGEVILLE — It's the biggest chip seal project ever to be conducted in Grangeville, and it starts next week.
An estimated 238,000 square yards of city streets will be completed in about a two-week period by contractor Herco of Lewiston. Just less than $500,000, the project will stretch north to south from the truck route to Harrison Street at the city limits, the bulk of work to be conducted on multiple blocks north and south of Main Street between Idaho and Meadow streets.
Work begins the week of Aug. 1, according to public works director Jeff McFrederick, with Herco crews on 12-hour days, estimating completion between 11 days to two weeks. The city will be distributing door hangers to residences within the project area that notify about the work, and advising pavement to be kept dry and clean, and that vehicles and other items be removed from street parking to avoid hindering or delaying crews.
Am I in the project?
To see whether your street is included in the city's chip seal project, a map is available for view at city hall, on the city's website (www.grangeville.us, click on "news releases") and on the city's Facebook page at www.facebook.com/grangeville.us
"This is about twice as big a project as we usually do," McFrederick said. An average city chip seal project size runs between 113,000 to 115,000 square yards. Prior to project's start, city crews will be conducting preparation work including covering manholes and valve covers.
Tackling a project of this size resulted from public works building up reserves within each of its funds, made possible by doing more work in-house by city crews and not contracting out, according to McFrederick. This has meant, since McFrederick started with the city in 2011, the street fund reserves growing from $119,842.77 to currently near $1 million; and in the sewer fund from $222,334 to $1.3 million now.
"It's a product of being efficient and doing stuff yourself," McFrederick said, as well as the benefits that come from combining work to put up bigger projects to bid. On this last, city chip seal projects normally bid at $2 to $2.50 per square yard, he said, but on this upcoming project, Norco "blew everyone out of the water" and put in the winning low bid: $1.57.
"As most contractors and people in business know, the bigger the project the lower the bids going in," he said. "By doing this bigger project we were seeing lower per-square-yard prices. And it's significant, a 33 percent difference in square yard price. That allows us to do a project and still leave a half million in reserves."
"And that's my plan," McFrederick continued, to both conduct projects and retain significant reserves, "so we can have the leeway to do bigger projects on our own dime but still have money to match a grant, for example, on a big sewer project."
Part of those reserves can be attributed to public works crews, who McFrederick complimented for their efficiency.
"And that's paying off. We're starting to see the rewards for our labors," he said, "and I hope to continue that trend."
More like this story