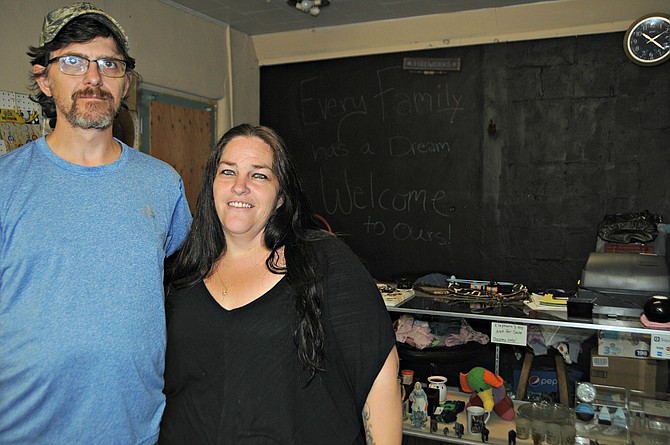 GRANGEVILLE — Area thrifters have a new place to seek treasures.
"Sissy's Thrift" recently opened at 212 Pine Street (formerly Backstreet Treasures).
"This has been a dream of mine for at least 10 years," said Rhonda Clovis, who, along with her husband, Craig, owns the store.
Rhonda was raised in the area and spent several years working at a local thrift store, and said she feels she knows many of the items people are looking for.
"I am making a list of things people ask for," she said. "And the fact that I like thrift store shopping and yard saling helps, too."
Rhonda said she and Craig purchased Dottie Prado's inventory as well as bought items at local yard and garage sales and stores that were closing, all to help fill up their own store. They are also accepting donations.
"There's a donation box outside or we will come to your home and pick things up," she said.
The Clovis' have five children between them, and one granddaughter. They named the store for Rhonda, as her family has always called "Sis" or "Sissy."
"We're so excited to be here and open," Rhonda smiled.
Although she still works as a CNA in home health, and the couple also has a paper route and works for Blue Fox and Sunset Auto View theaters, they are open six days a week.
"I will be here full-time," Craig said.
The duo says landlord Peggy Wright has been "wonderful"
"She has helped us a lot – we couldn't do this without her," they said. Wright still has her upholstery business in the back area of the building.
Store hours are Monday through Friday, 9 a.m. to 5 p.m.; Saturdays, 9 a.m. to 2 p.m.; and closed Sundays. For pickup or questions call 507-2693 or 507-2686.