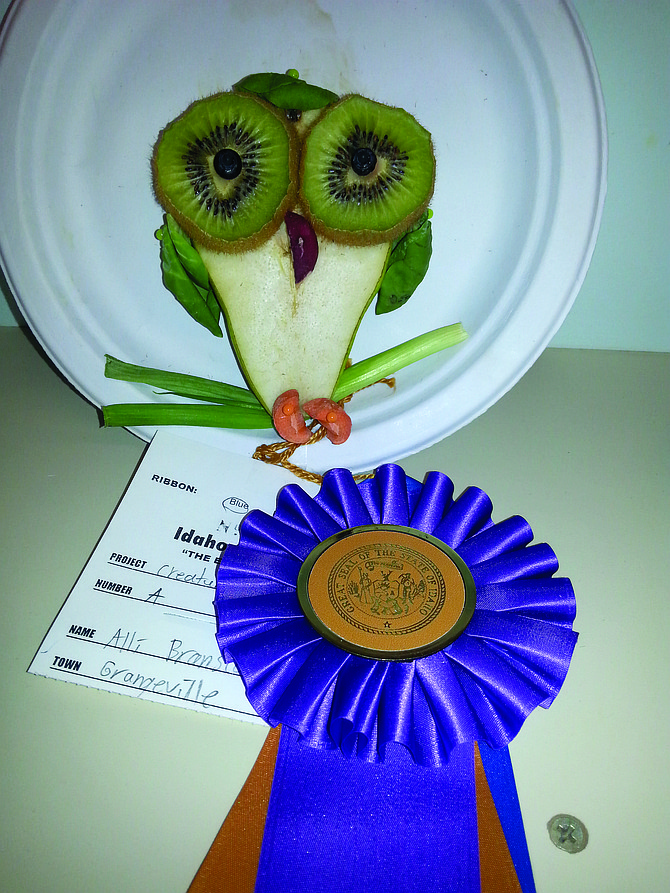 The Idaho County Fair premium book 2017 is out and that means it's time to do some planning.
Have you been thinking about making jam? Trying out that prize-winning cookie recipe? Maybe you want to highlight that portrait grandma painted or the quilt you made. What about the vegetables or flowers you're growing?
Just about any project or hobby you can think of can be entered in the "Open Class" exhibits at the Idaho County Fair.
The fair is set for Aug. 16-19 at Cottonwood.
"A county fair relies on the many exhibits entered by residents of that county. Are you a photographer? Baker? Gardener? Quilter? We want to show off your skills," said Idaho County Fair Board Vice-Chair Karen Wisdom of Grangeville." At the fair, we get a fresh look at the many talents hidden in Idaho County."
Age is not an issue – 1 or 99, enter away!
"As a child, I visited the fair. I remember thinking that someday I would like to be able to sew, quilt or bake like the people who had entered in the open class," Wisdom added. "The exhibits inspired me. They still do today. After the fair, I am energized and ready to start a new project."
The premium book includes a wide varied of categories including art, baked goods, beer and wine, crocheted items, food preservation, hobbies, horticulture (flowers, fruits and vegetables, and an entire junior division), knitted articles, needlework, photography, quilts, sewing and spinning. Each of these major categories has a variety of sub-categories, as well.
Besides the 1st, 2nd and 3rd, place blue, red and white ribbons, there are also cash prizes. However, bragging rights and simply showcasing what you do are more important than the money.
Tips on entering in open class: Be prepared
•If you have a photograph or artwork, make sure it is ready to hang. A small wire hanger works well on the cork-board type of hanging system at the fair.
•In many areas, you can only enter one item per category. For example, you cannot enter three animal photos under photography-animals. However, you could enter under animals, pets and humor. Vet this out before you get to the fair to avoid frustration.
•Read your premium book and have your categories decided on/marked before you get there. This saves time in the entering process. Bring a pen.
•Be sure to read all the rules. For instance, under food preservation, all meats and vegetables must be processed in a pressure canner and labels must include date processed, type and length of processing. This can be done ahead of entry time.
•Know that preserved foods need to have followed USDA guidelines of 2009 or later, and jars may be opened by judges.
•Allow some time to enter. Being prepared helps, but remember, everyone who is helping with entries is a volunteer.
— Lorie Palmer
A variety of special awards within the categories also exist: In the junior division of quilting, the Sew-Ciety Quilters offer separate prizes; the Valley Garden Club will award $10 to the best artistic arrangement and $10 to the best horticulture entry; Idaho County Wheatgrowers give out additional $5 and $4 awards to the outstanding blue ribbon exhibitor in breads, cakes, cookies, pies and sourdough; the Central Idaho Art Association presents $15 to the best Idaho landscape painting, and Ball is presenting a youth food preservation award as well.
"The Idaho County Fair presents an opportunity for both young and old to exhibit their special skills and hard work and the fair is a celebration of the special qualities of life in Idaho County," Wisdom said.
So, there you have it. Get a premium book at the Idaho County Free Press or the University of Idaho Extension Office in the courthouse.
Open class entry dates are as follows: Tuesday, Aug. 15, 6 to 8 p.m.; and Wednesday, Aug. 16, 9 a.m. to 12:30 p.m.