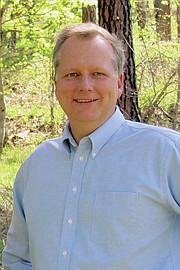 After reading Andrew Ottoson's article last week [July 19 issue] I am reminded of a quote from Ronald Reagan's Inaugural Address: "In this present crisis, government is not the solution to our problem; government is the problem." But that was in 1981, the year Andrew Ottoson was born. This brings to mind another Reagan quote: "I am not going to exploit, for political purposes, my opponent's youth and inexperience."
I couldn't agree more with Reagan on this. The solution is not more government. The solution does not rest with any one person. The solution, as always, will land on the backs of the taxpayers. Modern society has been lulled into believing that someone else is going to/should provide for them. But at the end of the day, there is no Santa Claus.
The residents of Idaho County have been receiving money from a checking account that has been operating in the red, borrowing from future generations to fill the gap. The reality is, at some point, some generation has to be smart enough to recognize that this overspending cannot continue and begin taking the necessary steps to do something about it.
Idaho County has been receiving two large checks over the past 17 plus years (for limiting logging). The one that is no longer funded is called SRS. That check was for $6,250,911.21 and was specifically for our road districts and school districts in the county. Every resident, not just the elected commissioners and board members, needs to really understand that if our schools and roads are going to operate in the current condition, the taxpayers of Idaho County will have to replace those funds. The second check is called PILT (payment in-lieu of taxes). The check this year was for $1,669,816 and is used in the general operations of the county. For now, it looks like we will still receive PILT, but perhaps at a slight reduction.
We have 11 independent highway districts in Idaho County, plus a county 'road and bridge' district. Each district is in charge of roads within a geographic footprint in the county, and each has its own governing board of commissioners. The county road and bridge district makes things confusing, as it is not a county-wide district, but rather a district that covers roads in Idaho County that are not part of any other highway district. It is governed by the Board of County Commissioners.
All highway districts are mainly funded by the gas tax you pay when you fill up at the pump (nontribal), which is set by the state, in addition to the federal SRS funds that are now gone. Only one option remains—a property tax levy, just like school districts run. Currently, half of the highway districts in Idaho County have a levy.
The county road and bridge district does not have a levy in place, which means no portion of property taxes go to the county road and bridge roads. This is where your county commissioners are hanging. Recognizing that a third of our road dollars are gone, we are faced with serious problems and limited solutions. Do we make due with what we have, letting the paved roads go to back to gravel, putting snowplows out only on roads that are school bus routes, etc.? Do we expend around $30,000 to conduct an election to ask voters residing within the county road and bridge jurisdiction for a supplemental levy? The levy, if passed, would be over $400 per $100,000 of value for these residents and that gets them no new services for their tax dollars.
The other 11 highway district commissioners have to be pondering these same questions and wrestling with legendary budgetary shortfalls. As Andrew aptly points out, these are problems taxpayers pay commissioners to solve. Despite the suggestion that I run the county, there are two other commissioners. We have many problems ahead of us, and few solutions. We await your suggestions.
---
Skip Brandt of Kooskia is the chair of the Idaho County Commission.