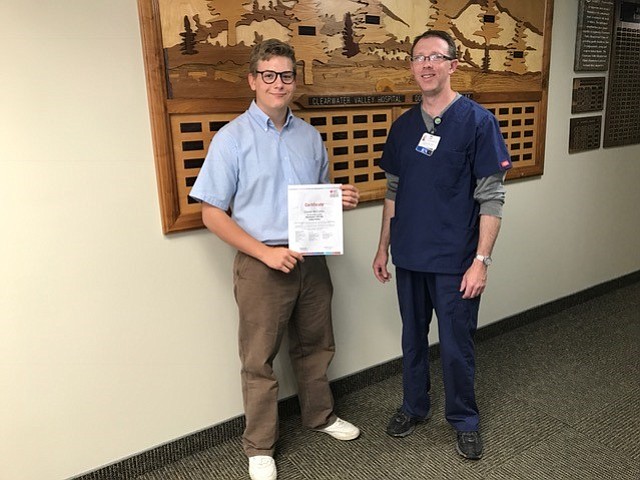 GRANGEVILLE — Daniel McCarthy traveled halfway across the world to learn CPR. Well, not really.
The 16-year-old is visiting his grandparents in the Mount Idaho area, Tim and Sonja McCarthy. He traveled from Geneva, Switzerland, where his dad works and he lives and attends school.
"I wanted to learn CPR because I will be entering the military following high school, and plan to go the medical route in the Army," he explained. Swiss citizens are required to complete mandatory military service for 260 days.
Since Daniel is visiting his grandparents, he has been using his time constructively. This included obtaining certification in CPR through St. Mary's Hospital. He studied the on-line course, then took the hands-on practicum with a CPR dummy.
"I think it's really important – a great lifesaving skill," said Tim. "It's not just something for adults, but for kids, too."
Daniel said he has enjoyed visiting Idaho – this is his third time here – and has been working on a variety of projects, including learning metal work and welding skills.
"I've also been helping grandpa with the house," he said.
The McCarthys are preparing to eventually move to Scotland to be closer to family.
Daniel plans to attend university following his stint in the military, though he is still deciding what he may like to go into career-wise.
"I've lived all over, including New York and Russia, so I am not sure where I will end up," he smiled.
To inquire about CPR classes, call St. Mary's Hospital in Cottonwood at 962-3251, or Syringa Hospital in Grangeville at 983-1700.