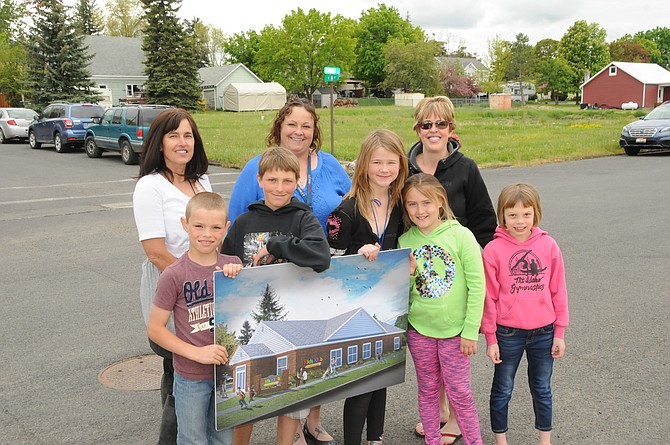 GRANGEVILLE — After years of planning, the Kids Klub, Inc., building will soon be started.
Kids Klub received an Idaho Community Development Block Grant of $400,000 in April, and will also utilize the Webb family donation from 2012. In addition, funds donated specifically for the building and from fund-raisers will be used.
Wemhoff Architecture in Cottonwood has drawn the plans for the property – three city lots that Kids Klub purchased adjacent to Grangeville Elementary Middle School at 506 South A Street.
"We have many people to thank for getting us this far," said Kids Klub board president Shannon Fuchs. "That list includes the Webb family, of course, as well as the City of Grangeville and Mayor Bruce Walker for sponsoring our block grant application."
As GEMS is at capacity, enrollment-wise, the classrooms occupied by Kids Klub since 2000 are needed for school classrooms.
"We have until June 2018 to be out of our current location at the school," explained KK program director Kristi Keeler.
Keeler said the school needing the space and Kids Klub outgrowing the space fused at the perfect time.
"We have had a waiting list for the past four years for our after-school program," she explained. Currently, that program serves just more than 50 children and the Kinder-Ready program had 12 participants this past year. KK also brings in the Missoula Children's Theater production yearly, helps send seventh and eighth graders on college visitation field trips and offers summer camps.
"Our summer camps started out at three weeks each year and are now up to seven weeks and they fill up quickly," Fuchs added
The two agreed that KK is excited to be able to expand its offerings.
As soon as the final, detailed architectural drawings are complete, planned for later this summer, the construction project will go out for bid and work can begin on the proposed 4,016-square-foot facility. The current school site offers 1,800 square feet classroom space.
As final blueprints are not finished and the bid has not gone out, numbers for the cost are not yet known. However, KK will continue to fund-raise for not only the building costs, but also those things not built-in which include fencing, landscaping and a playground area.
"We will also continue to work on grant writing," said Keeler, who said CEDA (Clearwater Economic Development Association) has also been "very helpful," in guiding the organization in the right direction.
Joe Bonn will oversee the building venture as manager and the KK volunteer board will continue to oversee the entire organization. Hopes are to break ground by early fall and finish in time to move in next June.
Donations to the building fund can be sent to Kids Klub, PO Box 124, Grangeville, ID 83530, or on-line at www.TheKidsKlub.org. Call KK at 983-2285.