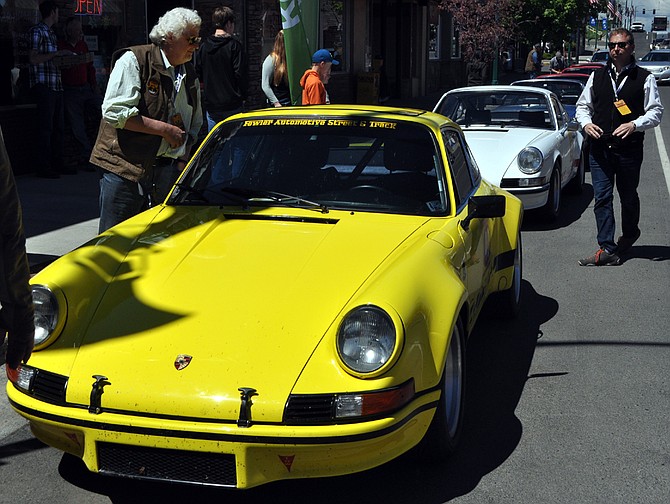 Photo by David Rauzi
Thirty vintage Porsche sports cars make Grangeville their stop en route to McCall on Friday, May 26, as part of the five-day Ramshorn Rally, which started and ended in Bozeman, Mont.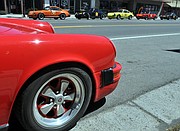 GRANGEVILLE — That was the sound of German engineering rolling into Grangeville.
Coming at the end of the week highlighted with area high school graduations, 30 vintage Porsche sports cars parked throughout downtown Grangeville on Friday, May 26, participants in the Ramshorn Rally. The five-day event, May 24-29, began and ended in Bozeman, Mont., with drivers averaging 350 miles per day, looping them across the Camas Prairie en route to McCall, Sun Valley and Jackson, Wyo.
Entries were restricted to 1989 and older air-cooled Porsches, explained co-director Will Brewster, adding with a smile "It's my party," and so kept to the older models he prefers. The event is one that appeals to active drivers and collectors, he said, adding, "The last 10 people to enter bought cars in this range year for this rally."
Among the notable Porsche models in attendance that day was a 1973 RS valued around $800,000. Other models in the rally included the 930, 911E, a 1967 911 and a 1980s 911 Carrera; values for participating cars ranged from $35,000 up to $250,000.
"This is just a beautiful road," Brewster said on the route choice that took drivers along U.S. Highway 12 and along the Lochsa River, and then south from Grangeville down the winding switchbacks of the Old White Bird Grade. For rally participants, who came from across the U.S., many have never been on roads such as this where driving conditions plus the horsepower and weight ratio of these cars allow these drivers to excel.
"There's no set schedule," he said. "Some drive fast, some slow, some break up into little groups."
The event – primarily supported by Hagerty Insurance Co. — is for purely the driving experience with the worries of luggage transport and mechanical breakdowns met with support vehicles that travel en route.
This is one of two annual rallies managed by a four-person board of directors, the other being the Going to the Sun Rally. Both are charitable events, explained Brewster, with more than $20,000 a year going to charitable organizations, such as the Friends of the Association of Montana Troopers. Since 2005, the rally events have donated more than a half-million dollars to charity.