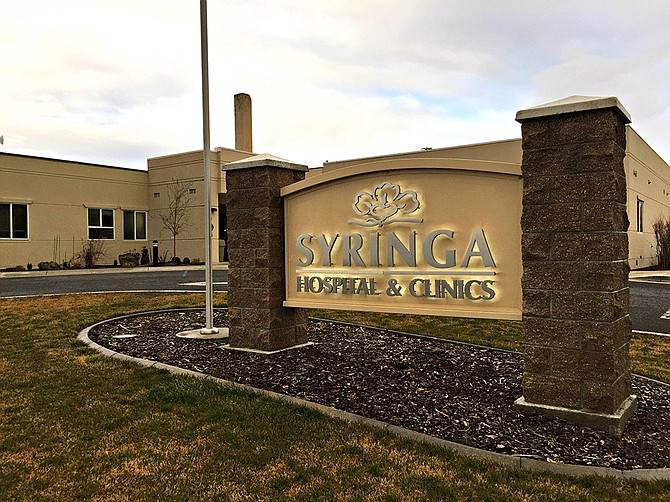 GRANGEVILLE — "I just want to commend the current board for the Kootenai affiliation agreement," said James May of Kooskia at the May 23 Syringa Board of Trustees meeting. "I know the whole process was not easy, but I believe it's a wonderful opportunity for Syringa and absolutely critical for this hospital."
May was one of four board members selected in the May 16 election. These included May, Leta Strauss, Jerry Zumalt and Jane Carlson. Gunther Williams was also elected. The new members will not take their seats until they are sworn in June 14.
Trustee Twila Hornbeck of Grangeville reiterated May's sentiments.
"I believe the affiliation is Syringa's lifeblood in continuing for years to come," she said. She also alluded to past attempts to complete some sort of affiliation with other hospitals that are physically closer; those did not pan out.
"I think we can all agree we would struggle without an affiliation with a larger facility," said board chair Al Bolden of White Bird.
Bolden said he hoped to get a verbal OK from the incoming trustees to go ahead with the next phase of the Kootenai Health affiliation, which is the wording for a managerial services agreement.
"If we're all in agreement, their board meets June 6 and would like to get some paperwork ready to go over for their meeting," Bolden said.
The signed management agreement would give Kootenai the go-ahead to assist in the search for a Syringa CEO who would be hired by and report to the Syringa board, but would be sought and employed by Kootenai.
"This is the ultimate goal – to reach the management service agreement which would have many advantages," explained board vice-chair Steve Didier of Kooskia. "Our CEO would report directly to us, be paid for by us, but have all the advantages of being employed by a larger health care system." Didier went on to say if the hire was not a good fit, a new person would be sought and Syringa would not be on line for a potentially expensive severance package.
Didier also commented on a fear he has heard surfaced within the county.
"In no way could Syringa ever be absorbed or purchased by Kootenai," he said. "We are both hospital districts and state statute does not allow that."
Newly elected trustee Strauss said she herself has heard that same fear.
"It's out there that the hospital has been or could be sold," she said. She advocated for communication within the surrounding communities that explain the facts. "You certainly have my support [to go ahead with the management services agreement]," she emphasized.
Williams said he had also heard people concerned about the possibility of the hospital being bought out.
"All the way in Moscow at the allergist, I was asked what's going on with Syringa," he said.
Newly elected trustee Zumalt asked if Kootenai is authoring the entire agreement, and then gave his verbal support when Bolden answered.
"Yes, but the paperwork will simply be in draft form for the Syringa board to review. Kootenai wants to be sure we are in agreement as a board, without any splits, prior to going ahead," Bolden added.
Dr. Danny Griffis offered his take on the affiliation and upcoming added services.
"I feel it's a fantastic opportunity as the days of a small, rural, independent hospital being successful, I believe, are gone," he stressed. "In order to continue to offer high quality health care, I feel we have to stand with a larger institution."
Griffis said Kootenai is interested in keeping healthcare dollars within the state of Idaho, "Which benefits all of us," he said.
"Although we are in no way obligated to refer to them – I personally like to refer to people I know and trust," he said. "With this relationship, that is possible, though we are always able to refer to wherever we feel is best for the patient, obviously.
Griffis said he believes Kootenai is interested in expanding its patient base in the state and because of its endeavors to do so, "their customer service is excellent."
"I have a very good feeling they want to deliver the best quality healthcare to the state, of Idaho's population," he added.
Griffis also touched on the CEO search, saying it was a better draw for a potential CEO to be employed by Kootenai Health than Syringa.
"It just looks better on a resume," he shrugged. "Also, the talent pool they have access to is probably a little deeper, plus the resources and networking they have to offer an administrator are going to be more than Syringa could offer alone."
New board members will be sworn in Wednesday, June 14, 9 a.m. The next regular board meeting is set for Tuesday, June 27, 12:30 p.m. Both will be at the Soltman Center.