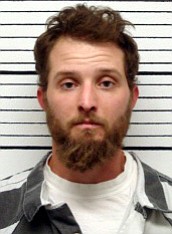 Allegations of area thefts may have been behind last month's felony assault incident at a Lucile boat ramp.
Arraignment is set for Monday, June 19, for Joshua B. Manley, 28, of Riggins, on charges of aggravated assault and unlawful discharge of a firearm at an unoccupied vehicle.
Charges resulted from a May 25 incident at the Lucile boat ramp, off U.S. Highway 95 near milepost 203. According to court documents, Manley is alleged to have fired a .22-caliber revolver at William Tucker without intent to kill, and at a vehicle occupied by Tucker and George Gibson. No one was reported injured in the incident.
According to Idaho County Sheriff's Office (ICSO) investigation documents, statements from those involved differ on what precipitated that morning's event.
According to Manley, he stated he was at the riverbank returning to his vehicle to find Tucker and Gibson shooting at his vehicle; he confronted the pair and then fired his weapon as they were leaving.
According to Tucker and Gibson, they were in a vehicle and pulled into the ramp area, and they saw Manley come from behind his vehicle and pull a gun and aim it at them while they were still in the truck. Gibson stated he was in fear for his life, and the victims both said Tucker then pulled his 41 Ruger and shot at Manley's vehicle, and that Manley returned fire. As per the investigation, Gibson said as they were backing up, Manley was firing at them and continued to fire as they left.
According to Detective Jerry Johnson, Idaho County Sheriff's Office, one of the factors believed leading up to the incident was, "a lot of frustration in the river community regarding Josh Manley, and thefts he may or may not have done."
Last month, Manley was charged with seven counts of misdemeanor petit theft, alleged to have stolen gold ore from Lucile resident Tom Lindsey's mining and processing sites on U.S. Highway 95 between April 23 to May 11. Investigation was Lindsey was a witness to the May 25 shooting incident.
According to Johnson, ICSO is currently investigating a recent theft of CB radios, a concrete hammer drill and other tools from Tucker, which Manley is alleged to have perpetrated, he said.
These new charges stack onto those Manley – currently held in the Idaho County Jail — is already facing in unrelated cases.
An August jury trial is pending for Manley who is charged with felony possession of stolen property regarding a December 2016 burglary of a Garden City warehouse. Manley is alleged to have had in his possession approximately $15,000 worth of outdoor gear at his Riggins property out of the estimated $40,000 taken in the Maravia Corporation burglary. In the interim between this and last month's case, Manley incurred a felony bail jumping charge, which will be addressed at next Monday's arraignment.