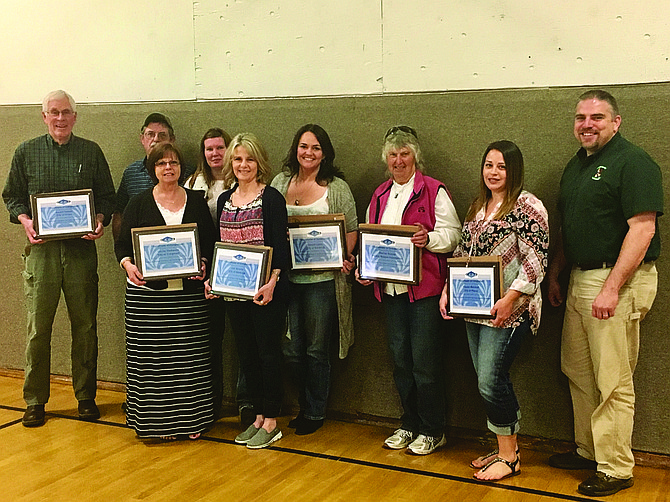 PIERCE — Representatives from local cities and organizations were honored for their completion of 30 hours of training on Community Project Development at the final meeting in Pierce. The training, offered by Clearwater Economic Development Association (CEDA) with funding from a USDA Rural Development's Rural Community Development Initiative grant and CEDA membership, aimed to build the capacity of rural communities to successfully undertake community projects from development to implementation.
Three cohorts of community leaders completed the training during the three years it was offered. The most recent graduates of the program included:
•The cities of Craigmont, Stites, Pierce, and Weippe; nonprofit organizations Animal Rescue Foundation (Grangeville) and the Save Our Pool Committee (Kendrick); community leaders from Kamiah and the Weippe Camas Festival; and Ida-Lew Economic Development Council. Other communities involved over the past three years include the cities of Cottonwood, Culdesac, Grangeville, Juliaetta, Kamiah, Kooskia, Nezperce, Potlatch, and Riggins.
•Representatives from the last cohort included: Jessaca Austad of Ida-Lew Economic Development; Gary Ball, Kayleen Canup, and LaLisa Thomason of the City of Craigmont; Lori Brocke and Darcie Lysne of the Kendrick "Save Our Pool Committee"; Mayor Gerald Cathey of the City of Stites; Shelley Dumas, Lesley Orcutt, and Rhonda Schacher of Grangeville ARF; JuLee Harper, Dawn Marie Johnson, and Kelly Wasson of Kamiah; Vianna Marshall and Mayor Trevor Sparrow of Pierce; Caralyn McCollum of the City of Weippe; and Judy O'Brien of the Weippe Camas Festival.
The training, which took place during a nine-month period for each cohort, was designed as a "train-the-trainer" approach to empower rural communities to successfully develop, fund, and complete community projects. Topics covered included financing, successful public outreach strategies, and grant writing. Participants applied the training towards a project they identified in their community throughout the nine-month training period. This combination of formal training and hands-on application of skills was designed to empower participants to address other needs and complete future projects independently and confidently. Projects will continue to be developed and led by training graduates with technical assistance from CEDA.
CEDA is the regional planning organization for the five counties of North Central Idaho. All participating communities and counties are members of CEDA.