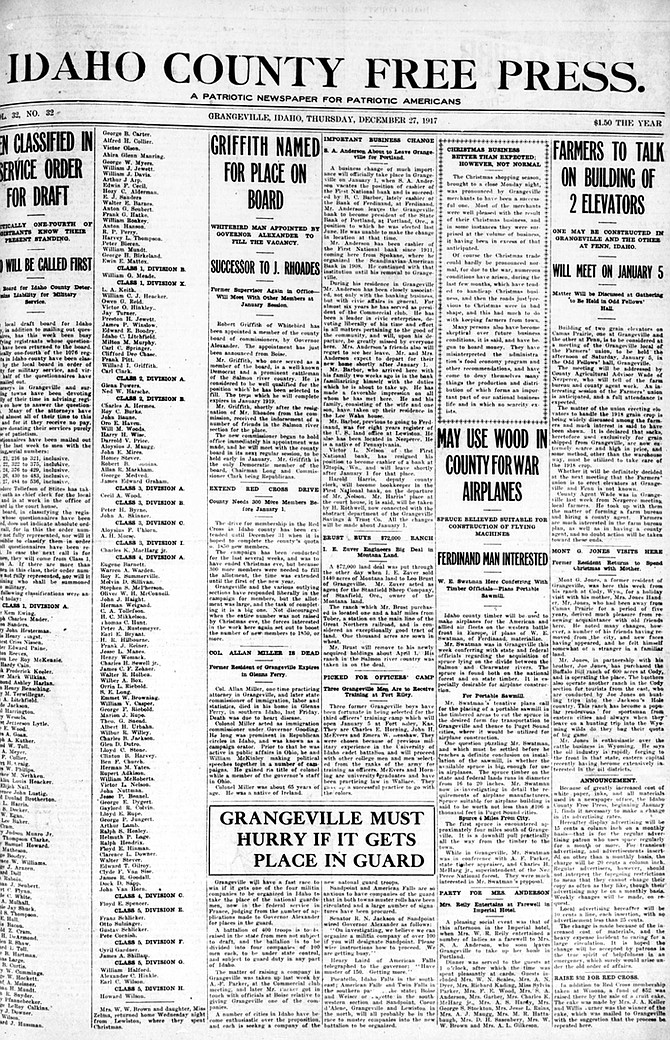 Just how did prominent Nezperce farmer Wm. Shockley propose to "entirely eliminate" smut from the country?
What act of bravery did local man Charles Sales commit to receive $1,000 from O.R.&N. Company?
Ferdinand man W.E. Swatman proposed a portable sawmill to serve what pressing national need?
(See end of story for answers.)
•
For those interested in Idaho County history, access to newspaper archives has been expanded through recent digital conversion of past publications, available online at http://chroniclingamerica.loc.gov/., created by the Library of Congress.
Most recently, three regional newspapers have been added to the free online service: Idaho County Free Press, The Grangeville Globe and the Cottonwood Chronicle. Funds through the National Endowment for the Humanities (NEH) allowed the Idaho State Historical Society (ISHS) to digitize 40 Idaho newspapers printed before 1923. Newspapers are keyword-searchable.
Five Idaho County newspapers are offered online:
Cottonwood Report (1893-1901), 420 issues
Camas Prairie Chronicle (1901-1917), 737 issues
Cottonwood Chronicle (1917-1922), 261 issues
The Grangeville Globe (1907-1922), 752 issues
Idaho County Free Press (1886-1917), 1,646 issues
Of these, the Free Press and Chronicle are the only papers publishing presently.
"To a researcher, a newspaper is one of the first places you turn, especially if they are searchable," said Shelley Kuther. She is involved in the Ilo-Vollmer Historical Society in Craigmont, and has also been doing her own personal and family historic research, "for years and years," she said.
One value of online access of these publications is they can be viewed 24-7 from anywhere you can get a connection, according to Kuther. They are also much easier to make copies from online, she said, "than those old volumes of newspapers that are big and awkward to turn over on a photocopy machine."
Searchability for key words and phrases is another big feature.
"You may know that great-great grampa was picked up with a jug of whiskey," Kuther said, but that fact may be buried somewhere within all the news copy, and finding that mention – and that's if you know it in the first place – is difficult to sift out through all the potential number of issues involved. "Being able to search for it takes a lot less time," as well as allowing you to find other information you didn't know you were looking for.
"Probably any historian or genealogist you ask, newspapers are right up at the top for resources," she said.
In 2015, ISHS was awarded $250,000 by NEH to begin digitizing 100,000 pages of Idaho newspapers printed between 1864 and 1922. Technical support was provided by the Montana Historical Society. Publications were chosen by a committee comprised of history teachers and professors, special collections librarians, ISHS trustees, an Idaho state archivist, and members of the public. Members hailed from each of Idaho's seven judicial districts, and at least one newspaper was selected from each district.
The goal of the Library of Congress is to digitize newspaper content from all U.S. states and territories published before Jan. 1, 1923. Newspapers published before that date are in the public domain. The effort was begun in 2003 and to date 43 states have provided nearly 12 million pages to the Library of Congress for posting online.
Along with this online service, researchers can also rely on resources in Grangeville. Original bound volumes of multiple area newspapers are available at the Bicentennial Historical Museum on North College Street. Call for hours, 983-2573. The Idaho County Genealogy Society has newspapers archived on microfilm for view at its 111 South Idaho Street facility; open Tuesdays, Thursdays and Fridays, 1 to 4 p.m.
---
---
Answers from top:
"replowing the summer-fallow after the fall rains."
Stopping a runaway engine at the railroad yards in Spokane
Spruce in the divide between the Salmon and Clearwater rivers for airplanes to be deployed on the WWI western battlefront in Europe.