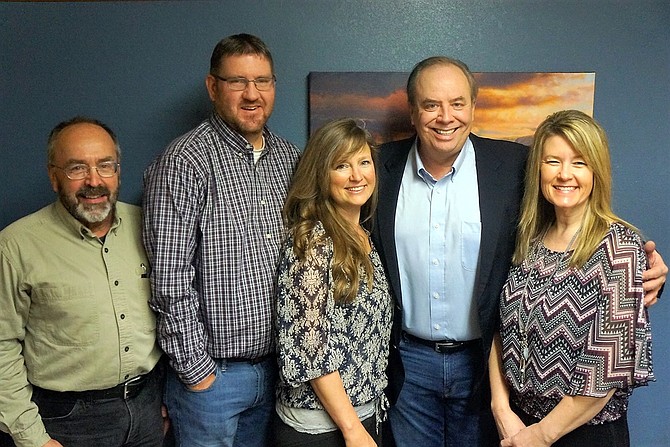 "I'm proud to be associated with Farm Bureau Insurance, my clients are also my friends," said Mike Asker, Grangeville Farm Bureau Insurance agent.
Agricultural producers have many assets in land, cattle, crops, buildings, and machinery that need covered by some type of insurance policy. Producers also need health coverage on themselves and their families.
More than five hundred Idaho County agricultural producers appreciate a knowledgeable, well-respected, homegrown agent such as Asker on their side.
After World War II, Idaho farmers and ranchers were frustrated because of the large amounts of money it took to buy insurance from traditional companies. The farmers' voices came together and Idaho Farm Bureau, established in 1939, took the lead to form a very successful casualty insurance company.
On May 1, 1947, a group of Idaho farmers and ranchers founded Idaho Farm Insurance Company that later became Farm Bureau Mutual Insurance Company of Idaho.
This company was grounded in the belief that neighbors should help neighbors. Subsequent generations of employees and agents, guided by the founders' beliefs, built the company into what it is today: one of Idaho's leading auto insurers, the largest writer of farm and ranch insurance in Idaho, and the largest insurance company wholly based in Idaho.
"I don't take your trust for granted," said Asker, "I believe as a Farm Bureau agent, I earn the right to provide you service only by responding to your needs and not ours."
As customers' needs changed and grew, Farm Bureau offered more insurance products and financial services, the first to inaugurate a complete "package" policy that combined multiple insurance products into one convenient policy, typically at a discounted price.
Great coverage, spectacular service and plenty of discounts is why Idaho has trusted Farm Bureau Insurance since 1947.
Idaho Farm Bureau's professional staff is made up of people who have a personal interest in the agricultural affairs of Idaho. Asker is one of those top agents, dedicating more than 30 years of professionalism to Idaho County residents.
Asker began his career with Farm Bureau Insurance on November 1, 1985. It took friend and former insurance agent, Terry Vanderwall, several occasions to convince Asker to become an agent.
Asker said, "Terry was a fantastic mentor and now his son, Mark, is in this same office."
The Grangeville Farm Bureau Insurance office has been in business since 1962, specializing in all farm and insurance needs – home, auto and commercial.
"My goal is to help you make the right insurance choices for you and your family," said Asker.
In this high-paced, technology driven world, busy farmers and ranchers rely on someone like Asker to help them obtain needed insurance coverage and fill out the never-ending paperwork required.
"Farm Bureau helps in making it easy. We are not just a farm and ranch company," Asker continued, "We handle all lines of insurance, financing, and investments with clients over the entire state."
According to Farm Bureau insurance adjusters, more than three feet of snow buried Southwest Idaho in early January, collapsing buildings and setting property damage records on a scale never seen before. (Idaho Farm Bureau Producer, March 2017)
"The people of Farm Bureau Mutual Insurance Company of Idaho have been earning our customers' trust and keeping promises for nearly 70 years. But we know we can't rely on what has been earned in the past. We are passionately committed to maintaining our reputation as a customer-centered company that helps its neighbors," said Paul Roberts, Executive Vice President and CEO of Farm Bureau Mutual Insurance Company of Idaho. (www.idfbins.com)
When asked what he enjoys most about his job, Asker said, "Every day I meet new people or catch up with old friends. It is also extremely satisfying for us to be there when we have a customer with a loss, be it anything from a fender bender to the loss of a loved one."
"Farm Bureau has provided me and my family with some fantastic opportunities that I would not have had elsewhere," Asker said. "I truly enjoy what I do and where I do it; it is extremely rewarding."
__
__
Shelley Neal is a resident of Lucile, garrett.neal@verizon.net .