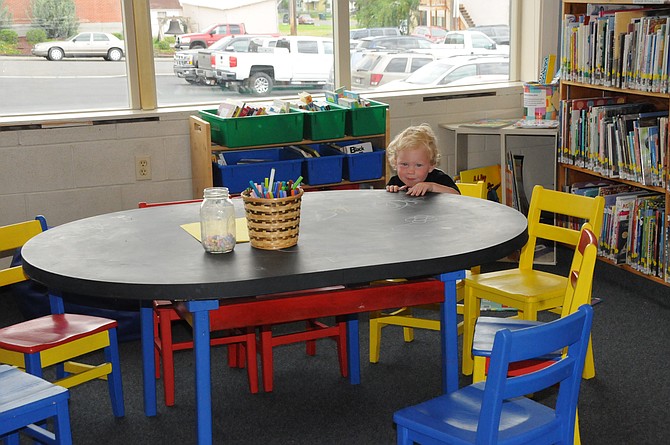 Photo by Lorie Palmer
The kids' room at the Grangeville Centennial Library has been renovated and updated to allow more light, space and room to build, research and read.
GRANGEVILLE — Kids have a more inviting atmosphere at Grangeville Centennial Library, thanks to the Friends of the Centennial Library (FOCL) and a private donation.
"Not to mention a great community of businesses and library volunteers," said librarian Angie Norman.
The kids' room (facing College Street) has a new coat of paint, storage, refinished and new furniture (Idaho Sewing for Sports) and a counter top area (Brandon Baldus) at the front. In addition, Bettie's Floors helped with supplied for the room's renovation.
"Our businesses gave us great prices on everything," Norman said.
The counter area offers two computers (one for games and one for Internet research) as well as a building area for technology/robotic projects. The old radiator was removed to make room for the counter with pull out cushions seating stored underneath.
A grant has also been applied for to help with the purchase of new books for the room.
Norman said the opening up of the room has really helped.
"We have 225 kids signed up for summer reading, so we need to divide groups for reading, crafts and other projects," she explained.
As summer reading started this week, Norman also expects more volunteers to be needed.
"We need some adult bodies as well as our teen helpers," she said. "Some of the times are only an hour a week, so it's not a huge time commitment."
Those already signed up for the "Build a Better World" summer reading program can pick up schedules at the library, go on-line to http://grangeville.us/centennial-library/, or stop by 215 W. North St.
The kickoff party is this Sunday, June 18, at Pioneer Park, 4:30 to 7:30 p.m., with a barbecue and music by the Whizpops.
Additional sponsors for the summer program prizes, books and activities include the Grangeville Lions Club, Early Bird, Attorney Joe Wright, Idaho Forest Group, Ace Home Center, Green Acres and various other individuals and grants.
To volunteer or for questions call the library at 983-0951.