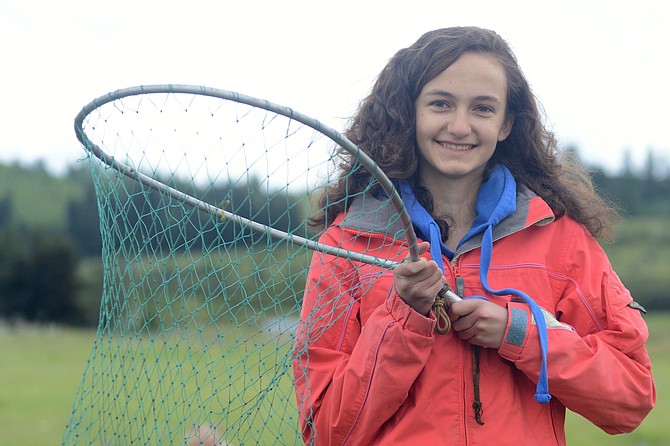 Photo by Andrew Ottoson
Jacey Rambo caught this 20-inch trout last Saturday, June 10, at Wilkins Pond, during the 29th annual Free Fishing Day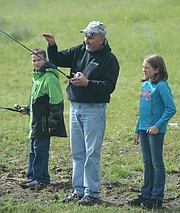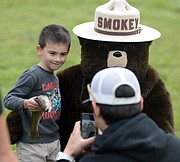 The 29th annual Kids' Free Fishing Day event was held at Wilkins Pond last Saturday, June 10. This year, 38 registered for the event, sponsored by the Salmon River Ranger District of the Nez Perce-Clearwater National Forests, Cottonwood Field Office of the Bureau of Land Management and the Idaho Department of Fish and Game.
The Grangeville Lions Club donated money and their time to make the event a success. They grilled up free hot dogs and gave away soda and water. Their money donation went toward prizes purchased at Rae Brothers, Crema Café, Blue Fox Theater and Ace Home Center.
Bigger prizes were awarded to kids for the biggest fish, second biggest fish, smallest fish and the winners of the casting contests. Random drawing prizes went to lucky winners for fishing poles, fishing tackle, movie passes, and gift certificates. The fish cooperated this year as well.
In the 8 and under age group, the smallest fish was caught by Sawyer Stewart. The biggest and first fish was caught by Alli Rambo and was 19 inches. Second place was a threeway tie by McKenzie Holman, Cloe Burch and Hudson Forsberg at 14 inches. Winner of the casting contest was Owen Wolfing with second to Aaron Maniford of Grangeville.
In the 9 to 12 age group, Gwen Taylor caught the smallest fish. The biggest fish, caught by Jacey Rambo, was 20 inches. The second largest fish, caught by Caryss Barger, was 15 inches. Winner of the casting contest was Beau Bruzas, also of Grangeville.