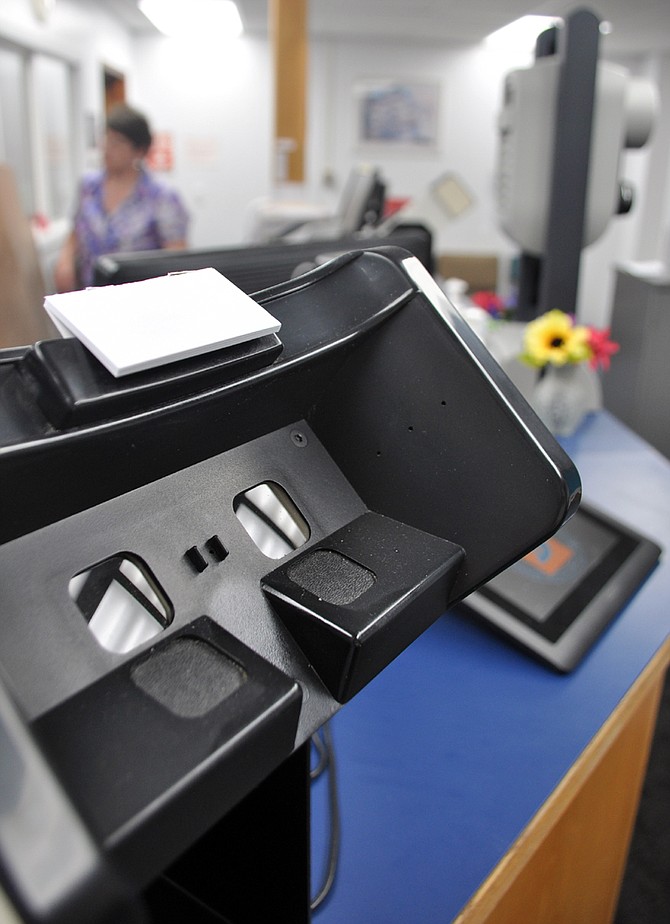 Photo by David Rauzi
Eye exam equipment at the Idaho County driver's licensing office in Grangeville.
GRANGEVILLE — Delays have lessened but still remain an issue for driver's license issuing in Idaho County, as well as across the state, due to continued system compatibility issues that likely may not be resolved until next year.
"It's getting better; it's not as long as it was," said Christy Raup, driver's license examiner, commenting on the customer wait time at the Idaho County office, located in the basement of the courthouse. But on information Raup received at an examiners' training earlier this month, updates to the state system to resolve this problem are estimated to be implemented in January or February of 2018.
For the past several months, according to the Idaho Transportation Department (ITD), state DMV locations have experienced an increased number of outages to driver's license services. ITD is working with its license provider, Gemalto, which has sent a team of specialists to Boise to investigate and fix the issue.
"ITD is placing as many resources on this as possible because the delays at the county DMVs are not up to the department's standard," stated the agency in a prepared release.
Raup said the problems started in November with system upgrades to electronically processing photo and signature data. While this point in the process now "runs like a Ferrari," she said, the existing data collection system has at times been unable to keep pace and becomes overloaded, causing a system shutdown that can take 25 minutes to reset.
"For a while, crashes were once a week," Raup said, and once they were down a full day. Crashes most often occur on Fridays, she said, a peak time for patrons requesting licensing services. Prior to the system upgrade, an average driver's license renewal at the Idaho County office would take five to seven minutes. "Now it is 10 to 15 minutes," she said. This wait time is compounded as with the process now being done all electronically, her office can only process one customer at a time, whereas before she could be starting a second customer while a first finished.
A further frustration randomly afflicting customers is their completed license failing to be issued, due to an as-yet undetermined problem causing the system to place a "hold" on the card at the printing factory, Raup said.
"I have one customer who has been trying to get his license since March, and he still hasn't gotten it," she said, the same for another person who came in with a license name change in December and as of February still hadn't received it.
The interim solution? "We keep printing them temporary paper licenses again and again," Raup said.
"It's very frustrating for the customers, and it's frustrating for us," she said of these ongoing issues.
She added the state is working diligently with the software provider to fix it, and meanwhile, some problems have lessened – license holds are getting rarer, and system crashes are less common, Raup said. In her office, they are "learning ways to make it a little faster," to handle preliminary tasks, such as eye exams, for a second customer while a first awaits information processing.
As part of the state's fixes, it has solicited county licensing offices with some of its proposed changes so far, asking for feedback on these by this Thursday, June 22.
"The state is aware there are problems," Raup said, "and they are trying to fix them."
The county driver's license office is open Monday through Friday, 8:30 a.m. to 4:30 p.m.