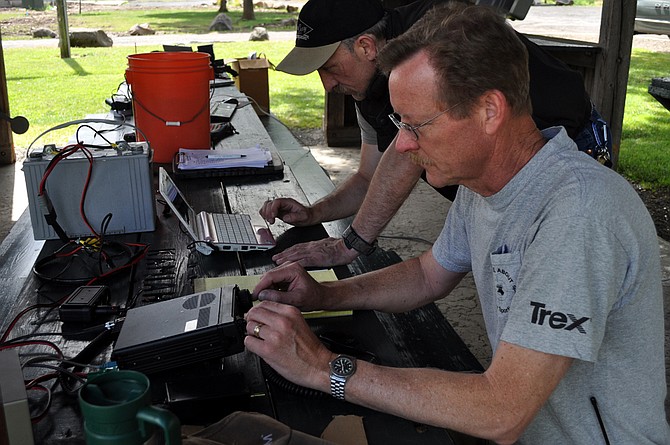 Photo by David Rauzi
Pictured at a June 2014 event: Dialing in a frequency to make contact with other amateur radio operators at Riverfront Park in Kamiah were (front) Brian Davis of Kooskia and (back) James Cox of Grangeville.
KAMIAH — Want to know how to communicate across town or around the world when cell phones, phone lines and power lines are out? 
As part of the annual ARRL (American Radio Relay League) Field Day exercise, the 3 Rivers Amateur Radio Club will have three radio transceivers and temporary antennas set up at Riverside Park in Kamiah this Saturday and Sunday. The public is invited to this two-day event, June 24-25.
For more than 100 years, amateur radio — sometimes called ham radio — has allowed people from all walks of life to experiment with electronics and communications techniques, as well as provide a free public service to their communities during a disaster, all without needing a cell phone or the Internet. Field Day demonstrates ham radio's ability to work reliably under any conditions from almost any location and create an independent communications network. More than 35,000 people from thousands of locations participated in Field Day in 2016
Anyone may become a licensed amateur radio operator. There are more than 735,000 licensed hams in the United States, as young as 5 and as old as 100.
For information about Field Day, contact David Brainerd (WB6DHW), 926-7886 or visit www.arrl.org/what-is-ham-radio .